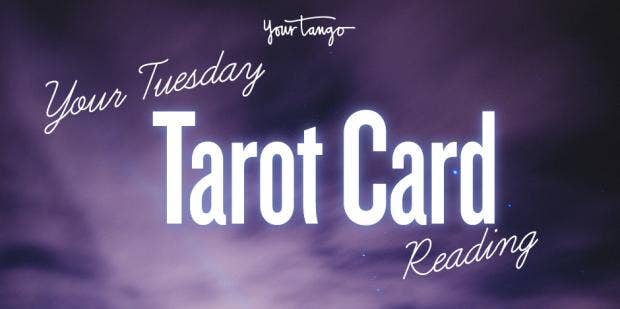 astrology
Daily Horoscope & Astrology Tarot Card Reading For November 20, 2018 For All Zodiac Signs
November 20,2018 05:21
Your daily tarot card reading for each zodiac sign's astrology horoscope is here for Tuesday, November 20, 2018! The Sun is in the zodiac sign Scorpio, and the Moon is in the sign of Aries. Today's Master Number of the day is 6 — The Nurturer.

Here is your daily tarot card + numerology reading for all zodiac signs in astrology for Nov. 20th.
Your daily tarot card reading for each zodiac sign's astrology horoscope is here for Tuesday, November 20, 2018! The Sun is in the zodiac sign Scorpio, and the Moon is in the sign of Aries. Today's Master Number of the day is 6 — The Nurturer. 
VIDEO: Numerology Secrets Of Personality Number 6!

RELATED: How To Calculate Your Soul Urge Number & What it Says About Your Personality
There are different ways that people come to calculate a daily number. One way is to sum up the entire day's date using a simple arithmetic problem. Take today as the example: 11/20/2018.
November is the 11th month, so we take the number 11 for the month. Then,  add the day, the 20th then the year. 
That will look like this 11+20+2018=2049 reduce that number again like this, 2+4+9=15 and yes, you'll need to go yet further unless you find a master number at this step which is 11, 22, and 33.
So we take it yet further till we find a single digit number, 1+5=6, which we then understand as the day number. 

via GIPHY

RELATED: What Tarot Readings Reveal About Who You Really Are
The day carries many layers of vibrational energy to teach us about our life experience here. Each daily number in numerology is an indication of the themes we may encounter. Understanding these energy plays can call your attention to aspects of your day that can be the most impactful. 
The number 6 in the world of numerology is considered a nurturing energy. 6 is very much a motherly, comforting and teaching number. Its positive aspects are giving, warm and nurturing.
People with a number 6 as a life path may express themselves as caregivers to their friends and family. They may even work well as counselors, teachers and medical professionals. 
The number 6 is highly empathetic. Connecting to the suffering of others in a deeply personal way is a powerful trait for this energy. With this quality number, 6 people can feel quickly drained and need to do things to protect their energy at times.
Learning to shield their own energy, so they don't take on too much from others, will be a beneficial technique to explore. 
RELATED: Weekly Tarot Card Horoscope For November 19th-23rd, 2018, By Astrology Zodiac Sign
The number 6 energy can become cynical when they have been overly used and not received a good balance of love and support in return. One can't pour from an empty vessel, consider a mom that's been run down and had no breaks, the energy that situation can create is not the feel-good type. 
Showing everyone appreciation for what they bring to the metaphorical family table is important. It protect everyone's ability to be giving when people offer to share gratitude without judgment.
If we all could keep this in mind through real-life healthy expression, then a balance would be that much easier to maintain. 6 strives for harmony and understands that they too need care.
As you move through the number 6 energies today take the opportunities presented to show care and support, comfort and love, and remember to show that to yourself too. Set your boundaries for how you need to be loved today. 
Define them first clearly for yourself then you can share your needs in a loving and calm way. Standing up for yourself is also a way to love yourself.
There is symbolism on each Tarot card that you can use to provide insight to your daily horoscope when things are unclear. Check out your zodiac sign or today, Tuesday, November 19, 2018 daily tarot reading and astrology predictions.
ARIES (March 21 - April 19)
Tarot Card: Death
Aries, the Death tarot card, comes along to assist you in a transformation. Something needs to be released for the way to be clear to your dreams. Letting go can be scary, it doesn't have to be in many cases, this is something you will be asked in life, acceptance can go along ways to success. 
The number 6 energy will be friend and family focused. Only the closest of friends though need apply to 6. It's not a global community experience unless you can offer support in a broad sense in some aspect. There may be a relationship near you that needs some cleaning out and redefining.  If you have been holding onto to negative emotions letting those go to clear the air will be effective. 
RELATED: Characteristics Of The Aries Zodiac Sign That Makes Them The Bosses Of Astrology
TAURUS (April 20 - May 20)
Tarot Card: Justice
Taurus, with Justice as your daily supporting energy, you may find the scales balancing in some aspect of your life. If you have been in a situation with a one-sided energy, look today for something there to finally show a shift.  Whether it be yourself or another that's been giving more, the Justice card shows that its time for the weights to be adjusted. 
The number 6 energy is sometimes taken advantage of for its giving nature. Try to recognize if you've accepted another's time and efforts without out offering your own kindness in return. If you have experienced it as the giver then stand up for your personal boundaries in a loving manner and expect to see results with a positive outlook. 
RELATED: 5 Facts About Taurus You Should Know, (But Don't) According To Astrology
GEMINI (May 21 - June 20)
Tarot Card: The World
Gemini, with The World card today, you may have a genuine reason to celebrate. The World card is a card of success. Having achieved something you worked hard for is the overall energy of this card in an upright position. You may even find that you've integrated a new perspective successfully today. 
The number 6 is a loving, family-centered vibration, you may have a support system around you that you can share your successes and dreams with. These people will encourage you to keep reaching for your heart's desire. 
RELATED: 13 Brutal Truths About Loving A Gemini (As Written By One)
CANCER (June 21 - July 22)
Tarot: The Fool
Cancer the fool teaches you about taking chances. In the fool card, you can see the concept embedded in a leap of faith. Your being asked to take a risk, with the belief that anything is possible and blessings will await you. Healthy chances are important for your growth. 
The Number 6 is a number of comforts, 6 is a considered a nurturing number and offers you chances today to explore the aspects of yourself that give and receive kindness and warmth. Look to ways you can increase your connectedness in these ways as you explore new horizons. 
RELATED: 25 Quotes That Describe Exactly What It's Like To Be A Cancer
LEO (July 23 - August 22)
Tarot Card: The Star
Leo, The Star card comes along to help you rekindle hope and optimism in life. The Star card teaches you to get back up, pick up all your pieces and make something new for yourself. If you have recently fallen to a feeling of hopelessness, The Star comes along today to bring you the divine message to believe anything is possible.  You are supported by your guides. 
The number 6 energy may be coming to you today to guide you in deepening your knowledge. The number 6 is a guiding and teaching energy, with an abundance of precious lessons to learn.  Look for where your lessons lie at this time and learn with enthusiasm so you can move on. 
RELATED: 6 Brutal Truths About Loving a Leo (As Written By One)
VIRGO (August 23 - September 22)
Tarot Card: The Hierophant
Virgo, seeing The Hierophant for you is a good indication that you are experiencing a time of strong lessons. You may be the teacher or student to your view. Remember though that in either regard the concept of the alternate is embedded. It's been said that "you teach best what you need to learn".  Teaching is a powerful experience and learning never ends. The Hierophant holds all that has been for the astute student. 
The Number 6 calls you to as a teacher as the number carries that vibration itself. The number 6 as a motherly concept offers the knowledge of how to provide empathetic care and comfort and provide sustenance for the those you love. Cooking a family meal today and teaching someone a recipe would be a great way to honor the number 6.  
RELATED: The 10 Best & Worst Zodiac Personality Traits Of Virgo (+ Their Perfect Love Match)
LIBRA (September 23 - October 22)
Tarot Card: Strength
Libra, you are tapping into an inner perseverance. Relying on your own will to move forward is a place you will likely find yourself in from time to time. Remembering how you surmounted issues in the past will help you manage any challenge at this time. 
Using the number 6 energy today, you may benefit from showing those you care for some of your talents for creating a welcome space. Your natural ability to discern truths in a situation, while offering compassion and understanding, can do wonders for calming any family—friend related drama that may crop up. 
RELATED: 21 Quotes That Prove Libras Just Want (And Deserve) To Be Loved
SCORPIO (October 23 - November 21)
Tarot Card: Wheel of Fortune
Scorpio, The Wheel of Fortune can indicate you have had some rough luck and fates are turning in your favor now. The Wheel of Fortune is always in motion, this card teaches you that if things are not great now, give it all some time and hang on, soon the energy will be different.
The number 6 is a family connected number. Look to your closest friends and family for blessings today. Revel in the relationships you have that bring you joy and offer the potential for long-term happiness. 
RELATED: 20 Quotes That Prove Scorpio Women Are The Queens Of Sass
SAGITTARIUS (November 22 - December 21)
Tarot Card: The Chariot
Sagittarius, The Chariot has come to you, indicating events are likely to shift quickly at this time. Advancements may seem to develop much quicker than you anticipated. Plans can also change at an accelerated rate, so maintain patience and stay on your toes. 
The number 6 energy can offer you an opportunity to bond with those closest to you. You likely have a network of supporters that you can call on to help you when the pace picks up in life. Explore those connections today whenever possible. 
RELATED: 20 Best & Worst Traits Of Sagittarius + Their Perfectly Compatible Love Match
CAPRICORN (December 22 - January 19)
Tarot Card: The Empress
Capricorn, today with The Empress energy supporting you, creativity could be high. With your technical mindset, injecting creativity will really set your works, whatever they may be, into a league of their own. The Empress is a naturally creative energy, she allows you to express yourself in an ingenious way. 
The number 6 energy is providing a chance to get in touch with more family-centered activities today. If you find yourself with the opportunity to deepen those connections, remember to show anything you may be working on to a loved one, and maybe take the opportunity to share some knowledge along the way. 
RELATED: Facts About The Capricorn Zodiac Sign That Describe These Down-To-Earth, Ambitious People Perfectly
AQUARIUS (January 20 - February 18)
Tarot Card: The High Priestess
Aquarius, look today to the serendipitous in life, play and adventure just for the sake of curiosity and lightheartedness can lead you to very deep places within yourself. Finding your inner wisdom and connection to the divine doesn't have to be a somber experience. With your sharp mind, you can find answers in all you do. 
The number 6 energy is connected to a care and support. Remember too that 6 also can be a strong force for bringing people together. Think of family mealtimes, there the number 6 can be seen in the expression of shared comforts. You are a sign that enjoys networking and social life, use those tools to see a bigger picture for yourself. 
RELATED: The 10 Best & Worst Personality Traits Of Aquarius (+ Their Perfect Love Match)
 
 
PISCES (February 19 - March 20)
Tarot Card: The Magician
Pisces, The Magician shows you illusions, your imagination to is symbolized here. If you use your powerful visions to manifest something beautiful here, you are maximizing The Magician energy. Though getting lost in it until you no longer know the truth, is dangerous. Look for how you use your imagination to further your highest good. 
The Number 6 energy is grounding for you today. Number 6 offers support and security, look for the ways you can enhance those aspects of your life. Perhaps combining your search for more security could lead you into a creative career. 
RELATED: Which Zodiac Signs Are The Most (And Least) Compatible With Pisces

Click to view (12 images)

Photo: Pinterest

Read Later

Amanda Ilene Sawyer is a writer and Mississippi native who is interested in science, anthropology, and spiritualism. When she's not writing about astrology, numerology, and tarot, she enjoys running her business and designing macrame pieces for her Etsy shop.

horoscope,horoscopes,astrology,zodiac,Tarot,tarot reading,tarot horoscope,numerology,numerology reading,day number,life path number 6,zodiac sign,zodiac signs,horoscope sign,horoscope signs,aries horoscope,aries tarot,taurus horoscope,taurus tarot,cancer horoscope,cancer tarot,leo horoscope,leo tarot,gemini horoscope,gemini tarot,virgo horoscope,virgo tarot,libra horoscope,libra tarot,scorpio horoscope,scorpio tarot,sagittarius horoscope,sagittarius tarot,capricorn horoscope,capricorn tarot,aquarius horoscope,aquarius tarot,pisces horoscope,pisces tarot,tarotscope,tarot advice,tarot astrology,tarot card,tarot card reading,tarot card readings,Buzz,Love,Self