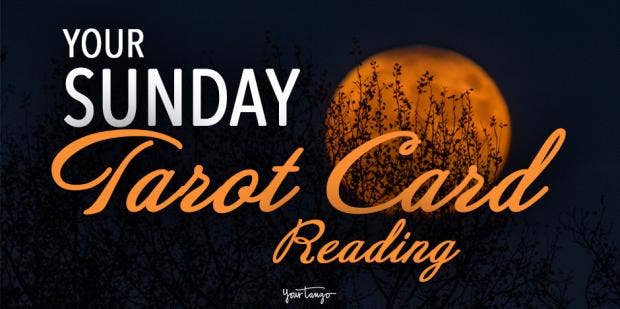 astrology
Daily Horoscope & Astrology Tarot Card Reading For November 11, 2018 For All Zodiac Signs
November 11,2018 15:14
Your daily tarot card reading for each zodiac sign's astrology horoscope is here for Sunday, November 11, 2018! Today's Master Number of the day is 6 — The Nurturer. RELATED VIDEO: 6 Life Path ...

Here is your daily tarot card + numerology reading for all zodiac signs in astrology for Nov. 11th.
Your daily tarot card reading for each zodiac sign's astrology horoscope is here for Sunday, November 11, 2018! Today's Master Number of the day is 6 — The Nurturer.
RELATED VIDEO: 6 Life Path

RELATED: Weekly Tarot Card Horoscope For November 12th-16th, 2018, By Astrology Zodiac Sign
The Sun is in the sign of Scorpio and we literally have hit the 2 week mark for when it departs the 8th zodiac sign in order to begin a 30 day transit of Sagittarius starting November 22nd. The Full Moon in Gemini is just under 2 weeks away.
While in Scorpio, the Sun brings your attention to desire, material focus, and internalized possessiveness. There are things that you may realize you want to own, and work hard to obtain. During Scorpio season hard work can be a catch-22 situation because you don't want to become owned by the thing you wish to get. 

via GIPHY

The Moon enters the work sector of the zodiac today, and it's time to buckle down and be productive... and if not, at least think about it a bit more. At first, this can create a desire to assume more responsibility than you ought to do.
But it can also bring about the knowledge of accountability. It's good to have people in your life that hold you to your plans or to keep you motivated when you're on the pursuit of a high goal.
RELATED VIDEO: Full Moon Tarot Spread - Tutorial & Demo

RELATED: 5 Reasons Doing A New Moon Ritual Each Month Can Make Women Happier And More Content
With this type of energy taking place during today's astrology forecast, it's wonderful that we have the vibration of a nurturing energy from a number 6. There's an opportunity to learn how to be gentle and kind with yourself, even when you are pushing to do something greater than usual.
It's also good to listen to your body for cues. When you pull back and rest at the signal your body or mind can give, you are showing that you not only are willing to be responsible to the world at large, but also to yourself which is just as important, if not more so.
There is symbolism on each Tarot card that you can use to provide insight to your daily horoscope when things are unclear. Check out your zodiac sign or today, Sunday, November 11, 2018 daily tarot reading and astrology predictions.
WATER SIGNS DAILY HOROSCOPES:

 
CANCER (June 21 - July 22)
Tarot card: The High Priestess
Cancer, sometimes things aren't what they seem and it's tempting to peel back the layers to explore the reason why. What draws your attention away from what really matters may not always serve your highest good. Consider whether digging too deeply into the unknown is worth it to you in the long run.
RELATED: Personality Traits Of The Cancer Zodiac Sign That Make It The Sweetest Sign In Astrology
PISCES (February 19 - March 20)
Tarot card: Death
Pisces, letting go of things you don't need anymore still can produce feelings of sadness or grief because you can feel that you've lost. The key is acceptance, but what turns the emotions around also includes gratitude for the present moment and what's coming in the future. 
RELATED: Facts About The Pisces Horoscope Sign That Explain These Wise, Old Souls Perfectly
SCORPIO (October 23 - November 21)
Tarot card: The Empress
Scorpio, new opportunities can rock the boat to routines and throw off what you are used to doing. Growth is constant change and progress, and when you see that you are heading towards a new height, it makes the lack of consistency worth venturing into the unknown.
RELATED: Traits Of The Scorpio Zodiac Sign That Make It The Most Intense Sign In Astrology

AIR SIGNS DAILY HOROSCOPES:

 
GEMINI (May 21 - June 20)
Tarot card: Justice
Gemini, good people do good things. Sometimes you can find yourself in situations where others aren't as kind or as generous as you would like them to be. It can hurt your heart, but it also can help you see just how rare and precious your actions are when they lean towards going above and beyond what's expected. 

AQUARIUS (January 20 - February 18)
Tarot card: The Moon
Aquarius, sometimes you can be aware of something and not even know you're aware until another person mentions the same idea in conversation. Stay in tune with your thoughts and the things that happen in your world. The connections your subconscious makes may come to the surface in a flash.

LIBRA (September 23 - October 22)
Tarot card: The Hierophant
Libra, sometimes maintaining a routine is a necessary evil. Other times changing the way things have always been is better than keeping the status quo. You can find a nice balance when you are able to jump from one extreme to the other when necessary.
RELATED: Facts About The Libra Zodiac Sign That Explain These Peaceful, Intellectual People Perfectly

 
EARTH SIGNS DAILY HOROSCOPES:
 
TAURUS (April 20 - May 20)
Tarot card: Wheel of Fortune
Taurus, chance and fate can meet in the strangest ways, and you still will have to act in order to see things the way you'd like for them to be. Let your hard work ethic help you to open a door when you see opportunity knocking. Remain persistent and you will find yourself where you are meant to be. 
RELATED: The Ultimate Taurus Compatibility Guide: Understanding Love And Relationships
VIRGO (August 23 - September 22)
Tarot card: The Sun
Virgo, good news comes at times when you least expect it. Today, you may find that you hear something that helps you to improve or gives you a sense of encouragement because someone near to you was blessed.
RELATED: 7 Brutal Truths About Loving A Virgo (As Written By A Virgo)
CAPRICORN (December 22 - January 19)

Tarot card: The Lovers
Capricorn, every day you make small decisions that create the life you live, and the live you want. Choose wisely. You may have to give something up in order to make room for more of what you truly want, or you may need to add a little more time thinking about what you need to start pursuing new opportunities.

 
FIRE SIGNS DAILY HOROSCOPES:
 
ARIES (March 21 - April 19)
Tarot card: Strength
Aries, when you exert too much effort and things still don't work out it can teach you something about timing. Check for right timing this week and be open to change when life says to pivot.  
RELATED: How Uranus Retrograde In Aries Affects Each Zodiac Sign Until March 2019
LEO (July 23 - August 22)
Tarot card: The Devil
Leo, love yourself for who you are and who you are becoming since there is no one else like you, nor will there ever be another you.
RELATED: Characteristics Of The Leo Horoscope Sign That Makes Astrology's Lion The RULER Of The Zodiac
SAGITTARIUS (November 22 - December 21)
Tarot card: Judgement
Sagittarius, remain positive and take life as it comes. It's a beautiful journey and you are doing the best that you can each step of the way.
RELATED: 20 Truths About Sagittarius Women You NEED To Know

Click to view (12 images)

Photo: Pinterest

Read Later

Aria Gmitter, M.S, M.F.A., is writer, astrologer, and YourTango's Zodiac & Horoscopes editor who covers astrology and celestial events. She's Live on YourTango's Facebook page on Tuesdays at 10:20 pm EST doing tarot card readings and answering questions about your zodiac sign. Follow her on Facebook.


astrology,horoscope,horoscopes,horoscope sign,Tarot,horoscope signs,tarot astrology,zodiac,zodiac sign,zodiac signs,aries tarot,aries horoscope,taurus tarot,taurus horoscope,cancer tarot,cancer horoscope,leo horoscope,leo tarot,virgo horoscope,virgo tarot,libra horoscope,libra tarot,scorpio horoscope,scorpio tarot,sagittarius horoscope,sagittarius tarot,capricorn horoscope,capricorn tarot,aquarius horoscope,aquarius tarot,pisces horoscope,pisces tarot,gemini horoscope,gemini tarot,Buzz,Self