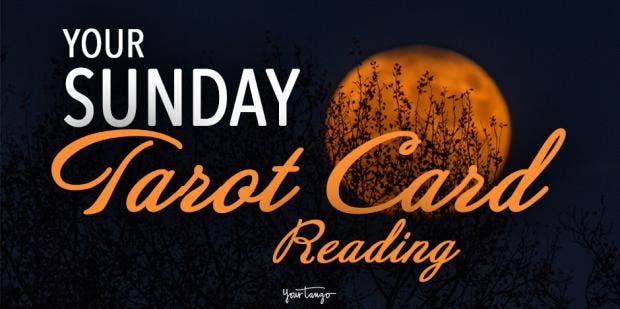 astrology
Daily Horoscope & Astrology Tarot Card Reading For July 8, 2018 For All Zodiac Signs
July 08,2018 12:18
Your daily tarot card reading for each zodiac sign's astrology horoscope is here for Sunday, July 8, 2018! The Sun is in Cancer and the Moon is in the sign of Taurus. Later this afternoon, Jupiter in Scorpio squares Mercury in Leo. Today's Master ...

Here is your daily tarot card + numerology reading for all zodiac signs in astrology for July 8th.
Your daily tarot card reading for each zodiac sign's astrology horoscope is here for Sunday, July 8, 2018! The Sun is in Cancer and the Moon is in the sign of Taurus. Later this afternoon, Jupiter in Scorpio squares Mercury in Leo. Today's Master Number of the day is 8 — The Powerhouse.
(Note: If your day of birth is the 8th, 17th, or the 26th of the month, then you are a Master Number 8. if the sum total of your birth date adds up to an 8, you're a Life Path 8).

RELATED:
A lot can happen when a conversation gets tense. With a late afternoon Mercury and Jupiter square, even the nicest things spoken can come out sideways when an agenda feels forced or what you want comes across impatiently.
Even in text messages, when the tone of a person's voice is absent, how you feel can interpret a message in a way other than what the sender meant for it to sound like. Just like words are difficult to take back when you're in an argument, the emotional impact of reading a text message in the wrong tone is difficult to reverse.
There's a need to keep those communication lines open in a positive way today, but you may have to make an extra effort to clarify what you say and to double check what you think someone else has said when it seems out of character. 
Taurus, in the Tarot, is represented by the Hierophant, and when upright it suggests taking in counsel, when reversed, some type of breakdown can take place. Today, that could be in the area of communication, without intention!
Cancer is represented by The Chariot card in the Tarot, and this is the will and strength to overcome challenges. There's a signal here that there's plenty of ability to get what is wanted by the end of the day, but don't force things. Instead, ask. Face the complications that come with schedules and planners, mixed signals and clarifying details, then see how well things work out because you didn't give up on doing what you set out to do.
There is symbolism on each Tarot card that you can use to provide insight to your daily horoscope when things are unclear. Check out your zodiac sign or today, Sunday, July 8th, 2018 daily tarot reading and astrology predictions.
EARTH SIGNS DAILY HOROSCOPES:
TAURUS (April 20 - May 20
Tarot card: Wheel of Fortune
Taurus, today you have a winning opportunity ahead and fortune is favorable. A bump in the road turns out to be more positive than negative. If you missed out on one thing, another comes your way.
RELATED: The Ultimate Taurus Compatibility Guide: Understanding Love And Relationships
VIRGO (August 23 - September 22)
Tarot card: The Hermit
Virgo, you have been in the process of learning a complicated lesson and there's a need for you to share how you've grown so you can encourage others to do the same. Talk about the miracles in your life that you've experienced and show how it's lead to your newly instilled beliefs. 
RELATED: The ULTIMATE Guide To The Virgo Zodiac Sign — The Most Down-To-Earth Sign In Astrology
CAPRICORN (December 22 - January 19)

Tarot card: The Emperor
Capricorn, is there someone in your life that you feel is a bit overbearing or controlling? You may find that the power is returned back into your hands after a conflict where transparency helps you express the way you feel. You may be required to take on a paternalistic type role to get your point across. 

 
 
FIRE SIGNS DAILY HOROSCOPES:
ARIES (March 21 - April 19)
Tarot card: The Magician
Aries, confusion lifts and your energy gets returned back to you, perhaps after you take a step back to see what exactly went down. Others see you as resourceful, helpful, and needed and the change in perspective allows you the respect you need and the opportunity you crave.
RELATED: Characteristics Of The Aries Zodiac Sign That Makes Them The Bosses Of Astrology
LEO (July 23 - August 22)
Tarot card: The Star
Leo, if you've been under the weather, health improves. Time loss from not being able to perform at your peak capabilities will come with a new appreciation for the time you do have. You can make good use of this experience as you've grown exponentially with spiritual insight. 
RELATED: Characteristics Of The Leo Horoscope Sign That Makes Astrology's Lion The RULER Of The Zodiac
SAGITTARIUS (November 22 - December 21)
Tarot card: Judgement
Sagittarius, something changes and a dead opportunity comes back in a different way. You may feel that you are walking down a similar path or experience but with new people, places and things. Recognizing patterns and potentiality will serve you well. Make adjustments that help you avoid repeating the past. 
RELATED: 20 Truths About Sagittarius Women You NEED To Know

 
 
WATER SIGNS DAILY HOROSCOPES:

PISCES (February 19 - March 20)
Tarot card: The Hanged Man
Pisces, an old pattern of thinking is ready to go. Release a fear of missing out. You may feel that whatever situation you face is stuck in a permanent type of limbo. The change that needs to take place is from within. 
RELATED: Facts About The Pisces Horoscope Sign That Explain These Wise, Old Souls Perfectly
SCORPIO (October 23 - November 21)
Tarot card: Death
Scorpio, reattaching yourself to the way you feel becomes needed if you want to avoid missing out on a joyful situation. You can allow yourself to remain closed off or decide to open up to what's ahead. 
RELATED: Traits Of The Scorpio Zodiac Sign That Make It The Most Intense Sign In Astrology
CANCER (June 21 - July 22)
Tarot card: The Sun
Cancer, a financial gain comes your way and you may find more vitality in other areas of your life as well. From emotional to spiritual benefits and new beginnings, the future is looking bright.
RELATED: Personality Traits Of The Cancer Zodiac Sign That Make It The Sweetest Sign In Astrology

 
AIR SIGNS DAILY HOROSCOPES:

AQUARIUS (January 20 - February 18)
Tarot card: The Devil
Aquarius, a situation that has left you feeling trapped is up for evaluation and you will need to detach from the emotional side of it in order to see things for what they are. Keeping your ideas of what is what to yourself may not be helpful. If you feel inclined, seek advice from a trusted mentor to help you.
RELATED: Spot-On Facts About The Aquarius Zodiac Sign Explain These Compassionate, Intelligent People Perfectly
GEMINI (May 21 - June 20)
Tarot card: The World
Gemini, a major life-changing event is on the way and it can put you on a path that alters the future forever. Be cautious if you're not ready for anything of that magnitude, such as chance meetings with lovers or one-night stands. 

Astrologer, Aria Gmitter is YourTango's Horoscopes & Zodiac's editor. Follow Aria on Facebook and send in your questions about love and relationships.


astrology,horoscope,horoscopes,Tarot,zodiac,zodiac sign,zodiac signs,aries,taurus,Gemini,cancer,leo,virgo,libra,scorpio,sagittarius,aquarius,Pisces,capricorn,astro-numerology,numerology,life path,master number,Buzz,Self