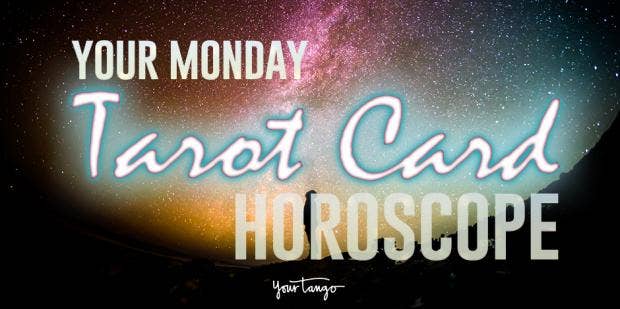 astrology
Daily Horoscope & Astrology Tarot Card Reading For July 16, 2018 For All Zodiac Signs
July 16,2018 13:10
... to find your path. There is symbolism on each Tarot card that you can use to provide insight to your daily horoscope when things are unclear. Check out your zodiac sign or today, Monday, July 16th, 2018 daily tarot reading and astrology predictions.and more »

Here is your daily tarot card + numerology reading for all zodiac signs in astrology for July 16th.
Your daily tarot card reading for each zodiac sign's astrology horoscope is here for Monday, July 16, 2018! The Sun is in Cancer and we are focused on root security and matters of family and the home.
The Moon is in the sign of Virgo, and all zodiac signs seek for order in their lives. Today's Master Number of the day is 7 — The Seeker. It's a day to organize feelings, work out issues related to trust and remove issues of doubt. 
(Note: If your day of birth is the 7th, 16th, 25th of the month, then you are a Master Number 7. if the sum total of your birth date adds up to a 7, you're a Life Path 7).

RELATED: Why People Born With A Master Number, 11, 22, Or 33 Have Unique Personality Traits, According To Numerology
We all doubt ourselves from time to time. It's part of being human. Learning to trust your inner voice is not easy. When you want to take a risk and step out of your ordinary world to do something else, it requires lots of trust.
You might not think that you have trust issues, but everyone does when it comes to trying something new. For example, those nervous butterflies when you start a new job? You want to make sure you do things right and not look foolish.
That has to do with trust. When you are nervous about your first date, feel anxious before heading into a party, and even when you are completely confident in your surroundings and rush to the bathroom after a meal to check your appearance, all those emotions aren't just due diligence, they are hesitations driven by a small lack of trust.
RELATED: Daily Horoscope Forecast For Today, 7/16/2018 For Each Zodiac Sign In Astrology
Learning to trust that still small voice that tells you that everything is going to be okay is an act of trust, and believing it feels like the final culmination, but it's not. Freedom from thinking about whether or not you trust something, believe it, and are just doing something is the pure essence of trusting in the universe.
And, it's not easy to do, but it's what the Freedom Seeker wants. They want to jump and not fall, but they also want to jump and not even wonder if they will fail. Trust is about the joy in leaping and believing that it will all workout free from doubt.
RELATED: Astrology Love Horoscope Forecast For Today, 7/16/2018 For All Zodiac Signs
Virgo is represented by the tarot card, The Hermit, and when drawn it advises all zodiac signs to meditate, go within, and to use your inner resources more than outer resources to find your path. 
There is symbolism on each Tarot card that you can use to provide insight to your daily horoscope when things are unclear. Check out your zodiac sign or today, Monday, July 16th, 2018 daily tarot reading and astrology predictions.
EARTH SIGNS DAILY HOROSCOPES:
VIRGO (August 23 - September 22)
Tarot card: The Empress
Virgo, your mind and willingness match well today, and the Empress tarot card is in tune with your deepest desire to set order and bring things together for smooth transitions. Changes you make today will work out for you, even if there are lots of things to get done.
RELATED: The ULTIMATE Guide To The Virgo Zodiac Sign — The Most Down-To-Earth Sign In Astrology
TAURUS (April 20 - May 20)
Tarot card: Death
Taurus, when you are trying to be productive and busy, it can make you think about what you want to do and what you just can't get to right now. A project you have may finally be put to rest so you can dedicate your time and attention to other matters related to the home. 
RELATED: The Ultimate Taurus Compatibility Guide: Understanding Love And Relationships
CAPRICORN (December 22 - January 19)

Tarot card: The Devil
Capricorn, have you ever observed someone being their own worse enemy? You may notice how someone around seems to trip over themselves in an emotional way at work or in a group you're a part of. You may reach out to help or give advice, but it may not be received as you intended.

 
 
FIRE SIGNS DAILY HOROSCOPES:
LEO (July 23 - August 22)
Tarot card: The Hierophant
Leo, waiting on others is not your greatest strength, but when it's your only option, what do you do? You may find that it's easier to start considering what you have control over and begin working on that as you wait to hear that your tribe is ready to move forward. 
RELATED: Characteristics Of The Leo Horoscope Sign That Makes Astrology's Lion The RULER Of The Zodiac
ARIES (March 21 - April 19)
Tarot card: The Tower
Aries, a problem comes up in the middle of the day that may require more attention that you had anticipated. Take an early lunch and mentally prepare. Part of being successful is knowing when to pivot.
RELATED: Characteristics Of The Aries Zodiac Sign That Makes Them The Bosses Of Astrology
SAGITTARIUS (November 22 - December 21)
Tarot card: The Lovers
Sagittarius, a decision divides up the day and it feels like you live many lives in 24 hours. You may have joy and work come together in the most unusual way but progress is there for both.
RELATED: 20 Truths About Sagittarius Women You NEED To Know
 
 
WATER SIGNS DAILY HOROSCOPES:

AIR SIGNS DAILY HOROSCOPES:

GEMINI (May 21 - June 20)
Tarot card: The Sun
Gemini, while others seem to have difficulty getting their work done, you hit a certain flow that makes progress light and projects easy. Everyone gets their turn, be kind as you may have a different perspective than those around you.

AQUARIUS (January 20 - February 18)
Tarot card: Temperance
Aquarius, it's another day of patience and understanding. Practice the laws of kindness. You are growing from the inside out by learning to love others even when things are tough.
RELATED: Spot-On Facts About The Aquarius Zodiac Sign Explain These Compassionate, Intelligent People Perfectly

LIBRA (September 23 - October 22)
Tarot card: The Fool
Libra, do your due diligence. Don't assume anything is as it should but instead  ask questions. It will be a support to the person you depend on and keep the blame game away if things dont' work the way you wanted them to.
RELATED: 11 Brutal Truths About Loving a Libra (As Written By One)

Astrologer, Aria Gmitter is YourTango's Horoscopes & Zodiac's editor. Follow Aria on Facebook and send in your questions about love and relationships.


astrology,horoscope,horoscopes,zodiac,zodiac sign,zodiac signs,Tarot,astro-numerology,numerology,life path,life path 7,master number,master number 7,master numbers,aries,taurus,Gemini,cancer,leo,virgo,libra,scorpio,sagittarius,capricorn,aquarius,Pisces,tarotscopoe,tarot reading,Buzz,Self