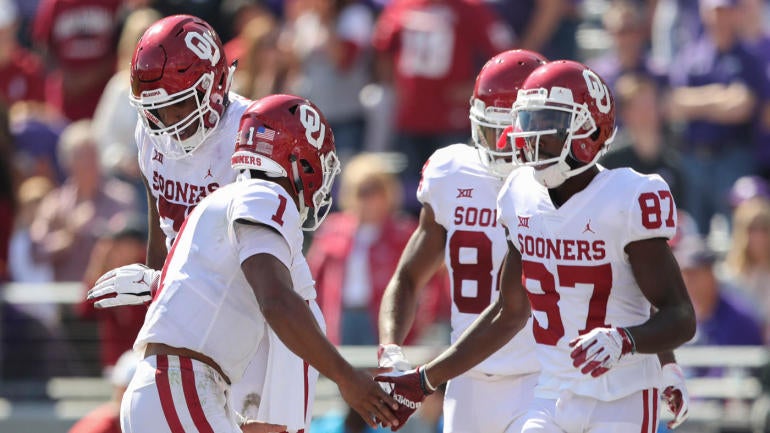 games
College football scores, schedule, games today: Oklahoma wins big; Clemson takes on NC State
October 21,2018 09:14
Week 7 of the college football season was a wild slate that shook up the landscape a bit, but that's generally how the month of October works. Saturday we move along with Week 8 action, and there are plenty of big-time matchups to get excited about ...and more »

Week 8 of the college football season was wild one, capped off with a stunning Big Ten upset that threw a major curveball into the race to the College Football Playoff. Purdue dominated No. 2 Ohio State from start to finish in a 49-20 win that gave Purdue one of its biggest wins in recent history. Out west, No. 25 Washington State jumped out to a big lead on No. 12 Oregon, and then hung on late to notch a huge win in the race for the Pac-12 North title. 
CBS Sports was with you the entire day Saturday, updating this story with the latest scores, results, highlights and analysis from Week 8. To manually refresh the page for the latest updates, just click here.  
Week 8 college football schedule, scores
All times Eastern
No. 9 Oklahoma 52, TCU 27 -- Box scoreNo. 6 Michigan 21, No. 24 Michigan State 7 -- RecapNo. 1 Alabama 58, Tennessee 21 -- RecapNo. 3 Clemson 41, No. 16 NC State 7 -- RecapNo. 5 LSU 19, No. 22 Mississippi State 3 --  RecapNo. 25 Washington State 34, No. 12 Oregon 20 -- RecapPurdue 40, No. 2 Ohio State 20 -- RecapUtah 41, USC 28 -- Box score
Click here for the full Week 8 college football scoreboard.
Check these out ...
Purdue upsets No. 2 Ohio State
It was a special night in West Lafayette, Indiana, as the Boilermakers pulled off one of the biggest upsets of the entire season with a 49-20 win over No. 2 Ohio State that sent a shockwave through the entire college football world. Freshman Rondale Moore was the star of the show, racking up 170 receiving yards and two touchdowns, had two carries for 24 yards, returned three kicks for 49 yards and added a punt return for 9 yards for good measure. 
Moore wasn't the only star of the night. David Blough threw for 378 yards and three touchdowns, D.J. Knox had 128 rushing yards and three touchdowns and Markus Bailey had a 41-yard pick-six to ice it. Basically, it was a full-on beat down by a team that was a two-touchdown underdog going in. 
Utah storms back to top USC
Well, things started out well for USC. The Trojans jumped out to a quick 14-0 lead on Utah after JT Daniels hit Michael Pittman for a 34-yard touchdown and Jay Tufele hit pay dirt on a scoop-and-score. After that, things went south in a hurry. The Utes ripped off the next 34 points to put the game out of reach by the fourth quarter. Quarterback Tyler Huntley had 341 yards and four touchdowns on the night, and Zack Moss posted 134 yards rushing for the Utes in the 41-28 win. It's a huge win for Utah, which drew even with USC in the race for the Pac-12 South title at 3-2 in conference play. 
Washington State wins a wild one over Oregon
It was a wild, wild game on the Palouse in the critical Pac-12 North battle between the Ducks and the Cougars. Washington State jumped out to a 27-0 halftime lead behind three touchdown passes from quarterback Gardner Minshew, but the Ducks came roaring back with 20 straight points to keep it close early in the fourth quarter. Minshew iced it with a 22-yard touchdown strike to Dezmon Patmon with 3:40 left to lead the Cougars to the win.
UCF wins 20th straight, but no McKenzie Milton
The Knights pushed their winning streak to 20 games Saturday night in a 37-10 win over East Carolina, but did so without star quarterback McKenzie Milton, who didn't start after suffering an ankle injury last week vs. Memphis. Darriel Mack completed 12-of-20 passes for 69 yards and rushed 22 times for 120 yards and a touchdown in Milton's absence. Greg McCrae added 99 yards and a score to help Josh Heupel's crew stay in the conversation for a College Football Playoff berth.
Clemson rolls in the battle of unbeatens
Clemson and NC State squared off in Death Valley in a critical ACC Atlantic battle between undefeated teams. The defending ACC champs proved that they're the contenders and the Wolfpack are the pretenders. Thanks to 308 passing yards and a touchdown from quarterback Trevor Lawrence, the Tigers had zero problems with the Wolfpack in a 41-7 win, and now the only thing left to wonder is whether anyone can slow Clemson down between now and the postseason. 
Nebraska won a football game in 2018
The Scott Frost era has been icy in Lincoln, after the Cornhuskers lost their first six games of the season -- the worst start in school history. That changed emphatically with a 53-28 victory over Minnesota. Though the Cornhuskers kept it a little too interesting at times, but this was easily the team's best performance yet, and the win was probably a few weeks in the making. 
Colorado, Washington exchange great catches
Some of the best catches of Saturday took place in Seattle. The Buffs got on the board first with a nifty 37-yard touchdown pitch-and-catch. Not to be outdone, however, Washington wideout Aaron Fuller only needed one hand to haul in this first-down catch. The Huskies won 27-13. 
Ironically, this game of highlight catches was played without star receiver Laviska Shenault. The sophomore did not make the trip for Colorado because of a toe injury he sustained against USC. Shenault leads the nation with 130 receiving yards per game and has six touchdowns. He also has five rushing scores. 
Michigan stomps Michigan State in heated rivalry game
Michigan topped Michigan State to take back the Paul Bunyan Trophy, and the game was full of fireworks. After a Wolverines player was allegedly clotheslined before the game, linebacker Devin Bush spent a minuted scuffing up the Spartans logo at midfield. The Wolverines then scuffed up the Spartans on the scoreboard, beating their intra-state rival 21-7 in East Lansing. Shea Patterson was the star of the game, throwing for 212 yards and two touchdowns. 
But it wasn't over at the final gun. Michigan linebacker Chase Winovich let Michigan State know exactly where it stands in the state.
Michigan coach Jim Harbaugh added his $0.02 in the post-game presser as well. 
Oklahoma outlasts TCU behind Kennedy Brooks
If you like scoring, Oklahoma vs. TCU was the game for you. The Sooners needed a strong 24-3 second-half run to pull away from TCU 52-27. As usual, Oklahoma had no problem moving the ball. Quarterback Kyler Murray averaged nearly nine yards per pass attempt with 213 yards and four touchdowns. But the real breakout star was running back Kennedy Brooks, who led all rushers with 168 yards at 9.3 yards per attempt. TCU made a quarterback change mid-game and went with Penn transfer Michael Collins, who made some big plays but ultimately wasn't able to get TCU out of that deep of a hole. 
Another undefeated teams goes down
Cincinnati was one of eight undefeated teams left in college football, but that is no more following a 24-17 overtime loss at Temple. The Owls have now won five of their last six, but the next month is absolutely brutal. Temple must play at UCF, at Houston and then gets a home game against South Florida to end a rough three-game stretch. Cincy's loss will likely knock them out of the top 25 polls come Sunday. 
Snowing in Madison
We had our first big snow game of the year -- even if only for a little while. It's not even November and it was practically a blizzard in Madison for Illinois-Wisconsin. It was clearly a problem for the Illini, who have fumbled twice and have thrown three interceptions between two different quarterbacks. The weather cleared off for the second half, though, in a 49-20 Wisconsin win. 
Auburn's offense rebounds in win
Guess there's no remedy for a broken offense like Ole Miss' rushing defense. The Tigers desperately needed a turnaround and got one in a 31-16 win over the Rebels. Auburn tallied 269 yards on the ground with three touchdowns and were actually able to play ahead for a change. One more win in the next three games is all the Tigers need to get bowl eligible now. 

gamestar games gamescom 2018 gamescom games with gold games workshop gamestop gamestorrents gameshop gamespot