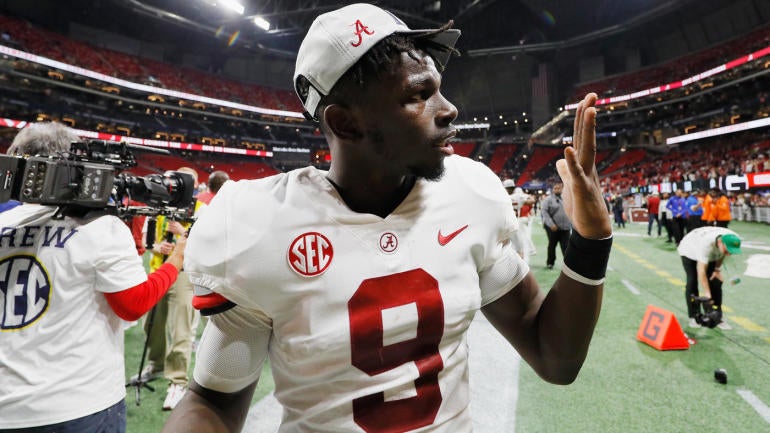 games
College Football Playoff games, selections: A fitting end to the Season of Chalk
December 03,2018 08:11
That doesn't mean the 149th season of college football wasn't interesting. Brand names sell. Alabama Fatigue may be a talk-show topic, but it isn't a reality. Alabama-Georgia was the second-highest rated SEC Championship Game since the format debuted ...

It was the perfect end to the Season of Chalk. In other words, there wasn't much new unveiled Sunday when the College Football Playoff field was announced.
What, you wanted Cinderellas, suspense, intrigue? You got four playoff participants with a combined 30 national championships to their names.
That doesn't mean the 149th season of college football wasn't interesting. Brand names sell. Alabama Fatigue may be a talk-show topic, but it isn't a reality. Alabama-Georgia was the second-highest rated SEC Championship Game since the format debuted in 1992.
The only "newcomer" to the playoff is Notre Dame. You know, that forgotten little institution in northern Indiana that sports only nine national championships. The Irish became only the 10th team to populate the 20 playoff spots in the five years of the CFP.
Alabama (fifth appearance), Clemson (fourth appearance) and Oklahoma (third appearance) have all been here before.
In the short five-year history of the CFP there is some tradition being developed. If Alabama and Clemson meet, it would be the fourth year in a row. Does that make it a rivalry?
"I think four probably makes it official," Tigers coach Dabo Swinney said. "If we do it this year, we'll officially call it a rivalry. Let's see if we can do it four in a row. We need to beat them more, too. Ain't much a rivalry when you're losing. We got to win more."
Well, there was that national championship in 2016.
There will be more debate over the worthiness of conference championship games. The Big 12 is now 2 for 2 in playoff participants (Oklahoma both times) since reinstituting their league title game last season. Meanwhile, the mighty Big Ten's conference champion has missed out three years in a row. That would include Penn State in 2016 and Ohio State the last two years.
For every table-pounding conference honk, it was nice to see Big Ten commissioner Jim Delany take a measured approach.
We learned once again: If you've got a quarterback, you've got a chance.
Dwayne Haskins dug Ohio State out of a late-season malaise throwing for 14 touchdowns in the Buckeyes' final three games. That's more than 27 teams threw for the entire season. When Alabama and Oklahoma meet, the two starting quarterbacks will have accounted 93 total touchdowns.
It sucks to play defense these days. Oklahoma got to the postseason with the worst defensive unit in the BCS era (since 1998). This is the life Sooners coach Lincoln Riley has chosen. Balance the No. 108 total defense with generational quarterback Kyler Murray.
There is no doubt that offense won out. It was the main theme to the season once again. The season is on track to be the second highest-scoring ever. Oklahoma so far has posted the highest scoring average (49.5 points) in the sport in five years. It became the first team ever to win four games in a row while allowing at least 40 points.
Even Alabama sacrificed a bit of its defense to become perhaps the most powerful offensive unit in school history. In the end, Bama had to outscore Georgia to win. It plowed through the regular season scoring 84 touchdowns and averaging 48 points. No opponent came within 22 points -- until Georgia.
Dawgs coach Kirby Smart's plea -- "You don't want to play us" -- eventually fell on deaf ears. Losses to arguably the two toughest teams that Georgia played (LSU, Alabama) doomed their chances.
Oklahoma got in by avenging its only defeat -- a loss by three to Texas at the gun back on Oct. 6.
The committee did not fail in assembling what is the most credible Football Four. There would have been more of outcry over the SEC getting two teams in after a loss (this time by Georgia), it seems.
All of it makes for a highly competitive CFP. Alabama suddenly seems vulnerable. The Dawgs manned up on the Tide on Saturday with a physical approach that seemed to have Alabama beat.
 "We've got a really physical football team," Smart said. "We've got a talented football team. And we most definitely have one of the best four teams in the country."
Maybe, Kirby, but you also have two losses.
Is there another team in the field that can bring the same physicality? Alabama opened as a 14-point favorite against Oklahoma, but judging from Saturday, there is a way to beat the Tide.

Alabama has found a spot in all five College Football Playoffs thus far. Getty ImagesWe told you Clemson has already proven itself to be Alabama's biggest rival in the playoff era. The Tigers switched quarterbacks, replacing Kelly Bryant with freshman Trevor Lawrence. But they also developed a toughness relying more on tailback Travis Etienne. Did we say offense? Clemson has averaged 45.4 points and won by an average of 33.6 in its final six games.
Notre Dame went undefeated with an efficient unit on both sides. Coach Brian Kelly finally had foresight to swap signal caller Brandon Wimbush for Ian Book four games into the season. Wise move. Book is the nation's fifth-most accurate thrower. The defense is actually better statistically than anyone in the playoff.
Oklahoma will have to win the same way it has for at least the last couple of years -- outscoring its opponents. It almost happened last year, if not for blowing a 17-point lead to Georgia in the Rose Bowl semifinal.
The book on the playoff couldn't be closed without mention of the Pac-12. For the third time in five years and the second year in a row, the league was left out of the playoff.
Arguably its best team -- Washington State -- didn't make the conference championship game. A pair of three-loss teams -- Washington and Utah -- played for the conference title with the Huskies earning the Rose Bowl berth.
The Pac-12 has a long way to go. Its credibility came under fire in an officiating controversy that involved meddling by the league's general counsel. Commissioner Larry Scott had to defend what was characterized as extravagant spending in an OregonLive.com series last week.
The league hasn't won a national championship since 2004. If Washington State loses its bowl game, every team in the league will have lost at least three games for the second year in a row.
Has it become a Power Four? That answer will have to wait until the Football Four battle it out in Year 5 of the CFP, ending the Season of Chalk.   

gamestar games gamestorrents games workshop gamestop games with gold gameshop gamespot gamesz games online