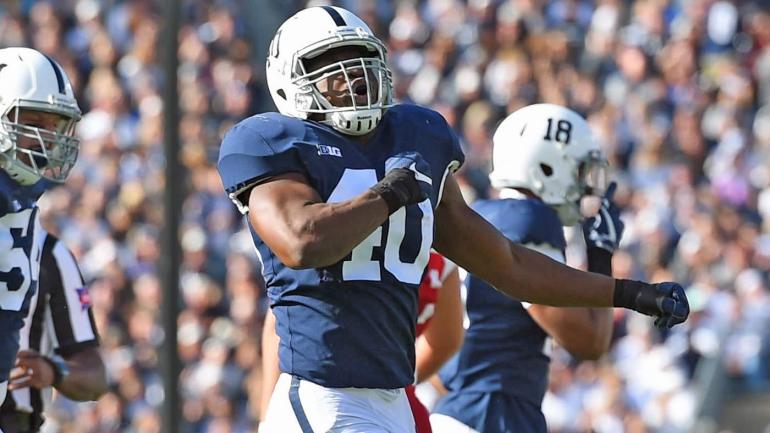 games
College football games, matchups for Week 8: The start of Elimination Saturday
October 21,2017 10:15
That is if you believe the losers of Michigan-Penn State and USC-Notre Dame are out of it -- which you should. Of the four, all but undefeated Penn State have one loss. Two losses just won't cut it when projecting the Football Four. In the last 27 ...and more »

Welcome to Elimination Saturday.
Jerry Palm told us this week that 14 schools have a legitimate chance at the College Football Playoff. That list could be reduced by (at least) two this week.
That is if you believe the losers of Michigan-Penn State and USC-Notre Dame are out of it -- which you should.
Of the four, all but undefeated Penn State have one loss. Two losses just won't cut it when projecting the Football Four. In the last 27 years, only six teams with two losses have reached bowl season ranked in the top four of the AP Top 25.
Five of those have come in the BCS era (since 1998), two in 2007. None since then. That basically means the CFP isn't going to tolerate a two-loss team.
Just so we're on the same page, there's lots at stake in State College, Pennsylvania, and South Bend, Indiana. ND is competing for a playoff spot this late for the second time in three years. USC may be fighting for the Pac-12's playoff relevance.
Michigan already has lost at home to Michigan State. Penn State is unbeaten but the next three weeks will be do or die.
This is your 11-day warning. The first CFP Rankings will be released Oct. 31. As we shove off for the second half, remember that every week now is an Elimination Saturday. 
1. It's great to be Irish: Brian Kelly for national coach of the year? A win against USC and the No. 13 Irish have a chance to move into the top 10 of the AP Top 25 for the 529th week all-time. Notre Dame's only loss is to No. 2 Georgia by a point. Kelly has changed coordinators and changed philosophies. Under new offensive coordinator Chris Long, the Irish have gone from throwing it almost half the time to top five in rushing. Mike Elko -- last seen coordinating Bowling Green and Wake Forest -- has sliced 11 points off the scoring defense average (16.8 points). Only 11 teams have recovered more fumbles. The Trojans are going to have match ND's physicality. They had a tough time with Utah's last week. They won't. Irish by double digits.
2. Night out, white out: James Franklin began getting ready for Michigan nine days ago -- and why not? The bye week should have been all about getting minds right. Michigan's 39-point beatdown last season was the difference in Penn State missing out on the playoff. The defending Big Ten champs take a huge step toward defending the Big Ten title with a statement win over the Fightin' Harbaughs. Why? Wilton Speight is out for the season. The running game struggles (11th in the Big Ten in rushing yards per rushing touchdown). The Nits get off to the best home start in the country averaging 17.5 points in the first quarter and have the No. 1 defense (9.0 per game). One team is rested and trending up. The other isn't. Don't be surprised if Penn State has it wrapped up by halftime.
3. Mercy beating: Take the points and Tennessee at Alabama. The guess here is that Nick Saban isn't motivated to curb stomp the Vols the way he was against Ole Miss (66-3) and Vanderbilt (59-0). Nick had a message for the Rebels, even though Hugh Freeze is long gone: Cheating doesn't pay. Prior to that, Nick had a message for that trash-talking Vandy linebacker. Butch Jones has almost become a sympathetic figure as his time as the Vols winds down. Nick will get up by four or five touchdowns and insert the backups. Don't eat the rat poison and take the 34.5 spread.
4. Frost (and Panda) warning at UCF: Scott Frost is either getting his team read for Navy's option or auditioning to be Nebraska's next coach. UCF's coach slipped in as scout team quarterback this week in getting the Knights ready for Navy's No. 1 rushing offense. "I feel like option quarterbacks now are kind of like giant pandas, they only exist in zoos and military academies now." Frost does understand that today's spread and RPO offenses are basically run by a whole lot of giant pandas, doesn't he? Frost is a former 1,000-yard rusher at quarterback for Nebraska's national championship. You shouldn't have to be told he has been mentioned prominently as the Huskers next coach. 
5. Where's this guy been? Where was the Pac-12's whining when Arizona's Khalil Tate made college football history in primetime the last two weeks? Arizona's backup ran for an NCAA quarterback record 327 yards two weeks ago against Colorado. He followed it up with 237 rushing yards against UCLA. Those games started at 8 p.m. and 9 p.m. ET. There is no excuse for not watching Tate this week against Cal. The sophomore once again is playing in primetime (8 p.m.). In the last two games alone, he has rushed for more yards (557) than Washington State, Eastern Michigan and West Kentucky have all season. With 643 rushing yards (T23 nationally), Tate is averaging 16.5 yards per rush and is No. 2 among Power Five quarterbacks in rushing. (Lamar Jackson is No. 1) Previously bothered by a bad arm, Tate has only been playing lately because of an injury to Brandon Hawkins.
6. Quick kicks: Crummy game of week: Kansas at TCU, in primetime on Fox. Who made that decision? … What's the golf equivalent of rat poison? … Fueling the Jeff Brohm-to-Tennessee rumors: With a win against Rutgers, Purdue will surpass its 2016 total (three) … If Wisconsin beats Maryland, it would have at least a two-game lead in the Big Ten West owning most relevant tiebreakers with four conference games to play … Three of the top nine winning streaks are in Florida – South Florida (11), Miami (nine), UCF (five) … Expect kickoffs to be moved up to the 40 in FBS at some point after the results of the Ivy League's experiment that significantly reduced head injuries … A tearful farewell to USF media contact Mike Radomski, who died Oct. 12 in a car accident.

gamestop games gamestop near me games of thrones games for girls gamespot games workshop games to play games for kids games online