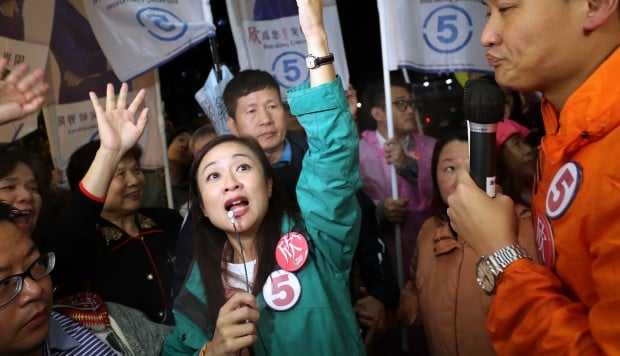 elections
Candidates in crucial Hong Kong by-election make frantic last-minute appeals as rain puts dampener on voter turnout
November 26,2018 01:14
Voter turnout on a gloomy, rain-soaked Sunday was expected to make all the difference as Hong Kong held a key legislative by-election marked by candidates making frantic, last-minute appeals for supporters to show up at polling booths. Only about 200 ...and more »

Voter turnout on a gloomy, rain-soaked Sunday was expected to make all the difference as Hong Kong held a key legislative by-election marked by candidates making frantic, last-minute appeals for supporters to show up at polling booths.
Only about 200,000 residents – or 40 per cent of registered voters – had cast their ballots in the by-election for a Kowloon West seat in the Legislative Council, as two major contenders blamed the bad weather for the lack in enthusiasm.
Opposition stalwart Lee Cheuk-yan from the Labour Party and former official government official Chan Hoi-yan of the pro-establishment camp were neck and neck in a five-horse race for the final seat in the geographical constituency.

By 9.30pm, turnout stood at 41.51 per cent of the 487,000 registered voters. That was only 0.06 percentage points higher than at the same time for the March by-election in the same constituency, but 11.6 percentage points lower than for the 2016 general election.
Political analysts expected a higher voter turnout to boost Lee's chances. Victory for him would restore the pan-democratic bloc's veto power in Legco over their political rivals' motions, including attempts to introduce changes to the chamber's rule book.

Chan was on a mission to extend her camp's dominance in the legislature in the run-up to the 2020 general elections.
Surrounded by supporters including veterans and leaders from their respective blocs, the candidates made last-ditch canvassing efforts in the constituency, issuing emergency appeals for people to come out and vote.
Voter fatigue threatens to dampen West Kowloon by-election turnout
Opposing sides occasionally engaged in shouting matches and minor scuffles against each other. Among them was youth group Demosisto's Joshua Wong Chi-fung, who chanted anti-Chan slogans through a loudspeaker as they faced off in Whampoa.
Chan was also accused by Lee of "employing dirty tricks" as pro-establishment volunteers were seen escorting elderly voters to a polling station in Sham Shui Po. Chan denied any knowledge of such arrangements.
The Electoral Affairs Commission received at least 214 complaints on Sunday, 98 of which were related to electoral publicity and 37 over the nuisance caused by the use of loudspeakers.
Addressing the public in the rain outside Whampoa MTR station, Lee was contesting his ninth Legco election since entering politics 23 years ago.
"This is the toughest election I have ever had throughout my political career," the veteran unionist said.
"Last time it was a duel between two camps while this time it is a battle among five candidates."
He was referring to the previous by-election in March, when the pan-democrats lost their bid to win back veto power. Their Kowloon West candidate, Edward Yiu Chung-yim, narrowly lost to pro-establishment rival Vincent Cheng Wing-shun.

That by-election drew only 216,895 voters to polling stations – or 44.3 per cent of those registered. The low turnout was seen as a key reason for Yiu's defeat.
Campaigning in Mei Foo on Sunday, Chan also warned that her campaign was in a "very, very critical situation".
She began her election-day campaigning by visiting Hoi Sham Park in To Kwa Wan with lawmaker Starry Lee Wai-king, chairwoman of the pro-establishment Democratic Alliance for the Betterment and Progress of Hong Kong.
"I am the youngest candidates of all, and the legislature requires new thinking," Chan said, pointing out that she had experience in public policy after serving as a political assistant to the city's health minister from 2012 to 2017.

Sunday's by-election stemmed from the disqualification of six pro-democracy lawmakers after the 2016 Legco polls over improper oath-taking.
The first round of by-elections in March filled four of the seats they left vacant, while two of the disqualified legislators, Leung Kwok-hung and Lau Siu-lai, chose to appeal.
Lau dropped her appeal in May, triggering Sunday's poll, although she was barred from running by a returning officer who cited her previous call for self-determination for Hong Kong as grounds for disqualification.
Infighting within the pan-democratic camp saw former member Frederick Fung Kin-kee contest the by-election, directly competing against Lee.
The two remaining candidates, IT worker Ng Dick-hay and independent Judy Tzeng Li-wen, were not expected to cause any upset.

News,Hong Kong,Politics,Legislative Council by-election 2018