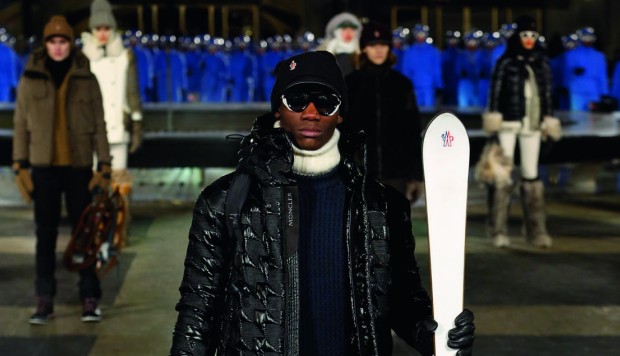 lifestyle
Brand-new lifestyle: luxury fashion brands are embracing the athleisure concept
July 08,2016 05:34
Showing up in yoga pants and sneakers anywhere outside of the gym was once frowned upon, yet today's street-style icons and professionals alike flaunt their healthy lifestyle on the go by donning limited-edition trainers matched with high-performance ...
Showing up in yoga pants and sneakers anywhere outside of the gym was once frowned upon, yet today's street-style icons and professionals alike flaunt their healthy lifestyle on the go by donning limited-edition trainers matched with high-performance sportswear and smart-tech gear. It's apparent that the athleisure trend is here to stay.
The term athleisure - recently included in the 2016 Merriam-Webster's Dictionary - refers to casual clothing designed to be worn for exercising and general use.
"It's definitely not just for the gym," says Kelly Wong, Lane Crawford's general merchandise manager. "We encompass the idea of the customer lounging in athleisure, doing sports in them or even extending its versatility to wear to work and go straight to the gym afterwards, hassle-free."
The athleisure category has shown promising growth over the past few years. According to a Morgan Stanley Research report last year, the US activewear market accounts for annual sales of US$97 billion. The report estimates that the industry could add more than 30 per cent growth in sales by 2020 in the US market, whereas Europe could expect 5 per cent average annual sales growth over the next five years.

"We think the market will be surprised to learn how broad-based the cultural factors driving athletic apparel and footwear sales are," says Jay Sole, Morgan Stanley's branded apparel and footwear analyst.
Many attribute the popularity of athleisure to the change in people's lifestyle - focusing on health and well-being. Sweating it off at a spinning class or an aerial yoga session on a Friday night is now the new norm.
"It's a shift that we are seeing within our daily lives," says Lisa Aiken, Net-a-Porter's fashion director. "Very often, we are not training alone. There's a social element in taking fitness classes together. It's another dressing occasion that we need to find a solution for our customers."
Athleisure brand Aeance's founder Nadine Baier agrees and says: "Social conventions on clothing are decreasing. People are freeing themselves from feeling constrained by their wardrobe and want to be flexible to face all that the day brings."
Jetsetters are also splurging on activity-packed lavish holidays across the globe which increases the demand for performance sportswear.

"It's not just a trend. It's a lifestyle," says Remo Ruffini, chairman of Moncler which in 2010 launched the Grenoble collection focusing on high-performance sportswear for extreme climates. "A small number of people began holidaying in prestigious mountain resorts during the 1950s. High-altitude clothing has since been transformed."
Fashion houses have been quick to jump on the bandwagon. Chanel, Dior and Louis Vuitton are offering couture sneakers while Fendi, Chloé and Hermès are launching capsule collections specially designed for skiing and cross-fitting.
High-end retailers have invested in campaigns dedicated to athleisure. One example is Lane Crawford's Fit Room concept. Two years ago, luxury e-tailer Net-a-Porter launched Net-a-Porter Sport Channel designed for 11 sports including golf, yoga and dance.
"We recognised that there was a massive opportunity in designer sportswear," says Aiken.
The athleisure trend has shown few signs of slowing down. The past few years have also seen the focus on sportswear highlighting cutting-edge technology and integrating it with timeless style and aesthetics. Niche brands are embracing the trend with an innovative edge - Moncler's Grenoble line, Athletic Propulsion Labs, Aeance and DYNE - to name a few.

"Research and development is extremely important to us," says Adam Goldston who with his brother Ryan founded Athletic Propulsion Labs (APL), known for its high-performance spring-loaded basketball trainers banned by the NBA as they drastically increase players' vertical leap.
"We were motivated to start the brand because we were ourselves college athletes and wanted a product that could instantly help us perform better and also look amazing," Ryan Goldston adds.
Moncler's Grenoble collection also prioritises research and innovation. Considerable work has gone into creating lighter down and slimmer silhouettes. The technology has been introduced to snowboarding gear.
"Light down does not mean foregoing the same level of insulation thanks to [advanced] research," Ruffini says. "Performance is the keyword as Moncler Grenoble constructs top-of-the-range skiwear in which the research always revolves around practicality. Each garment is designed to withstand the harshest conditions."

Innovations in fabrics and construction aside, luxury athleisure brands are also investing in wearable technology. DYNE, for example, incorporated Near Field Communication in its garments to allow wearers to stay connected on the go.
"We are repurposing existing technology and integrating it into a new medium that fits people's lifestyle," says DYNE founder Christopher Bevans, who previously worked as a design director for Nike. "Athleisure is a category that has to be taken seriously."
Athleisure has influenced high-fashion ready-to-wear collections in recent seasons.
"Designers have melded in their own take on sports into their ready-to-wear collections," Wong says. "For autumn/winter 2016, we saw this trend come through from Alexander Wang, Acne Studios, Stella McCartney to Balenciaga and Emilio Pucci."
Aiken agrees: "Sportswear has often referenced hoodies and sweatshirts. It has infiltrated the designer [fashion] level. Designers are picking up cues subtly from sportswear."

Baier says: "Most importantly, it has made fashion more active and functional as well as liberal."

On the other hand, athleisure creators are also striving to find the perfect balance between performance and aesthetics. Traditional sportswear giants such as Nike and Adidas continue to elevate the style elements through collaborations with high profile designers. Adidas has spun collaborations with Stella McCartney and Yohji Yamamoto into permanent collections. Seasonal capsule collections with talk-of-town emerging designers are also aplenty - think Sacai for Nike and Kolor for Adidas collections. Balmain's creative director Olivier Rousteing debuted his crossover with Nike last month. Celebrity endorsements have further fuelled the athleisure boom - think Beyoncé's Ivy Park line, Rihanna for Puma and the sought-after adidas Yeezy by Kanye West.
APL, for example, has built a strong celebrity following counting the likes of the Kardashian clan as fans.
"Our breakthrough in fashion happened very organically," Adam Goldston says. "We gained extreme momentum after our initial success with specific retailers and it was a combination of our silhouettes, colour palettes and materials that allowed us to resonate with the fashion community."

With the growing prominence of athleisure, the category is filled with premium luxury labels catering to luxury consumers.
"In terms of price range, even at a premium level, the price is usually justifiable with the amount of technology that's gone into the fabric and construction," Wong says. "Which is why this category also has such huge potential as it's a practical, non-emotional purchase."

Sophisticated customers are gravitating towards niche brands rather than mainstream sportswear brands.
"Sophisticated customers would rather invest in timeless, high-quality and credible products, not worn by everybody," says Baier of Aeance, which foregoes a seasonal launch.
"This allows us to put more energy into each product as it does not just fade away after one season," she adds. "The sophisticated customer wants to buy less but better and cares where and how the garments are made."
Ryan adds: "The world becomes more connected and social media has such a big impact on people's lives that people don't want to look like a walking billboard for a brand."

Magazines,Style,Fashion &amp, Beauty,Lifestyle,Fashion &amp, Luxury