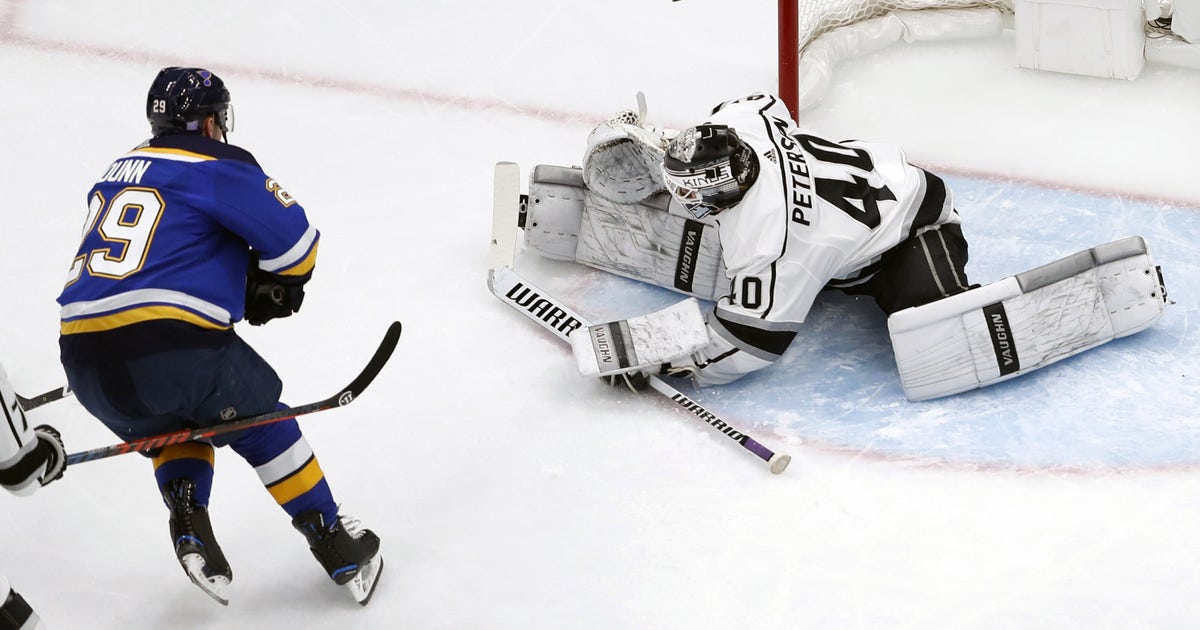 games
Blues get shut out for third time in four games in 2-0 loss to Kings
November 20,2018 11:16
ST. LOUIS — Teammates and friends in the minors, Los Angeles Kings rookies Calvin Peterson and Matt Luff pulled off NHL firsts in the same game. Peterson earned his first shutout and Luff scored his first goal, leading the Kings to a 2-0 victory over ...and more »

ST. LOUIS — Teammates and friends in the minors, Los Angeles Kings rookies Calvin Peterson and Matt Luff pulled off NHL firsts in the same game.
Peterson earned his first shutout and Luff scored his first goal, leading the Kings to a 2-0 victory over the St. Louis Blues on Monday night.
"It's unreal," Luff said. "We were talking when I gave him a hug on the ice about that. Couldn't have picked a better day for it to happen with him getting his first shutout. We talked about it on the plane. He's probably one of the best kids so I'm happy it happened for him."
Peterson, making his third start for the Kings, stopped 29 shots. He is the 24th rookie goaltender to start a game for Los Angeles. In college at Notre Dame and in the minor leagues, Peterson had 20 shutouts.
"On the personal side, to get the shutout was very cool," Peterson said. "And for Luffer to get his first (goal) was very cool too. So it was an all-around great night."
The Kings, last in the Pacific Division, had lost four of their last five games before picking up the win over St. Louis in a game featuring teams with the worst records in the Western Conference.
Interim coach Willie Desjardins said it was a good win for the Kings.
"They're hard to play against," Desjardins said. "They had a few chances. I thought we played pretty good overall."
The Blues, last in the Central Division, have lost four of their last five games. This marked the third time they were shut out this season.
"It's hard to win if you don't score goals," Blues forward Vladimir Tarasenko said. "I have no words. We're trying hard, maybe too hard. If we don't score, it's zero in every game and it's really frustrating."
After the game, the Blues announced they fired coach Mike Yeo and replaced him with Craig Berube on an interim basis.
Los Angeles went up 1-0 at 8:18 of the second period. Luff, a 21-year-old right wing, scored his first goal on his sixth career shot when hit a wrister from the right circle. Adrian Kempe fed the wide-open Luff for the goal.
"It wasn't a perfect shot but luckily it went in," Luff said. "I thought about it a little bit in the previous games. Tonight it was in my head just don't think about it. I kind of just blocked it out and shot my shot and it went in."
Anze Kopitar added an empty-netter with 30 seconds left.
This was the first meeting this season between the teams. St. Louis won two of three last season and is 6-3-0 in the last nine matchups with Los Angeles.
Blues goalie Jake Allen faced 26 shots in falling to 5-3 in his career against the Kings. Allen was pulled with 1:45 to play but the Blues were unable to score.
"You can't win hockey games without scoring goals," Blues defenseman Alex Pietrangelo said. "This has to be a harder place to play."
NOTES: St. Louis Cardinals outfielder Harrison Bader, accompanied by team mascot Fredbird, dropped the ceremonial first puck. … Blues D Carl Gunnarsson and F Jaden Schwartz will be out through the weekend. Both sustained upper-body injuries in the Blues' 4-1 win at Vegas last Friday. … Blues F Alexander Steen missed his third game with an upper-body injury. He is listed as day to day. … F Pat Maroon, who suffered an upper-body injury last Wednesday against Chicago and was placed on injured reserve, can come off IR on Thursday. … Blues D Robert Bortuzzo has resumed skating. He has missed 12 games with a lower-body injury and remains on IR. … the Kings recalled F Austin Wagner from Ontario of the AHL and goalie Cole Kehler has been assigned to Ontario. … Kings F Trevor Lewis (fractured foot) is listed week-to-week.
UP NEXT
Kings: Host Colorado on Wednesday night.
Blues: At Nashville on Wednesday night.

gamestar games gamestop gamestorrents games workshop gamescom games with gold gamescom 2018 gamespot gameshop