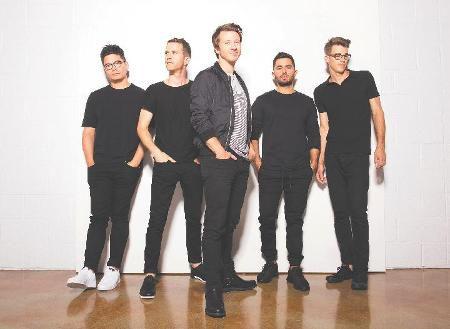 entertainment
Back home again: Longtime buddies reunite onstage
October 22,2017 12:21
Members of Tenth Avenue North, performing Thursday at East Side Church of God, are, from left, Jeff Owen, Brendon Shirley, Mike Donehey, Ruben Juarez III and Jason Jamison. Owen is an Anderson native and attended Anderson University. ANDERSON ...and more »

ANDERSON — As members of Tenth Avenue North were writing songs for their latest album "Followers," lead guitarist Jeff Owen got the devastating news.
It weighed heavy on his heart as it sunk in: His sister-in-law was diagnosed with Stage 4 cancer. But her faith was unwavering, and she trusted God had a path for her.
Owen sat down at a writing session and told his bandmates he had to sort out his feelings into song.
Out came "I Have This Hope," a tender ballad dedicated to his family member.
Now Tenth Avenue North is taking the song out on the road with a stop in Anderson. The band, along with guest artists Brandon Heath and Anderson's Jon McLaughlin, will perform at 7 p.m. Thursday at East Side Church of God, 2600 E. Fifth St.
The concert is a bit of a homecoming for Owen, an Anderson native and Anderson University alumnus. He jokes about not being able to visit anymore because his parents have cats, and his wife is allergic.
"I think it will be really fun to play back at my home church and see some familiar faces again," Owen said.
He'll be returning with McLaughlin, his friend since childhood.
The two met in the fifth grade and lived together during part of their time at AU. This is the first time they've toured together in the more than 10 years Owen has been with Tenth Avenue North.
"There's a lot of inside jokes, and we're just having a blast," Owen said. "It's basically like we're in college again, hanging out between classes and before we go to bed."
But on the stage, Tenth Avenue North is all about delivering the best show possible. Owen said the audience can expect a fun show with heartfelt truths from the three-time Gospel Music Association Dove Award winners.
"At the end of the night, we want people to leave with something that's going to last them much longer than the feeling of a good concert," Owen said. "We try to communicate truth in the show – truth of God and an experience of him in a new and refreshing way that will last much longer than remembering how good our show was."
Owen said God uses each song to reach people, and that individuals react differently to each single. It's a blessing for him to be able to sing "I Have This Hope" every night and for the tour to bear the same name.
"You write these songs and you don't know going into it knowing how it's going to turn out or how people are going to receive it," he said. "But it is a message we want to communicate, so it's really rad the song has hit such a chord with people."
Tickets for the Tenth Avenue North concert are $19 in advance and $23 the day of the show. Early entry tickets are available for $25, and deluxe tickets are $40. Tickets and more information are available at eschog.org or 765-649-3534.

​Like Kelly Dickey on Facebook and follow her on Twitter @KellyD_THB, or call 640-4805.

jeff owen,music,singing,show,fun,jon mclaughlin,ticket,song,concert