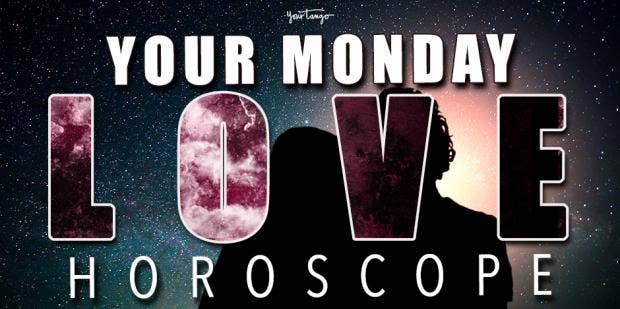 astrology
Astrology Love Horoscope Forecast For Today, 5/21/2018 By Zodiac ...
May 21,2018 23:34
Your daily love horoscope is here, astrology lovers for Monday, May 21st, 2018 for all zodiac signs. It's a day to take a good look at all the hard work you put into ...

Here's your daily astrological love horoscope forecast for May 21st, 2018.
Your daily love horoscope is here, astrology lovers for Monday, May 21st, 2018 for all zodiac signs. It's a day to take a good look at all the hard work you put into making life beautiful.

RELATED: Astrology Horoscope Forecast For Today, May 21, 2018 For Each Zodiac Sign
The Sun is in Gemini and the Moon enters Virgo just before the day ends tonight. We can learn what this all means for us, and try to figure out how to make this work for the best and figure things out.
You often make a huge effort to impress others and then, miss that moment to wow yourself. It only takes a moment of your time, but sometimes you forget to do that for yourself. You're so busy wanting to be there and show up fabulous, and you are. Affirm yourself, first, and then the compliments you receive from someone you love or like is frosting on the cupcake!

RELATED: Daily Numerology, Astrological Horoscope & Tarot Card Reading For Today, 5/21/2018 For All Zodiac Signs
Gemini is an air sign and Virgo is an earthy zodiac sign and both are formational zodiac signs. While Virgo seems to be hypercritical, there's a reason for that. When Virgo energy comes into our lives, it's a time to let things happen on their own terms.
Gemini energy sometimes needs someone to step on the breaks and remind us to hold back a bit in order to get comfortable. Associated with fast-moving communication, it can feel like moving at the speed of light, which isn't always 'practical'. 
Imagine, you've got an important date and only so much time to get ready. You zoom around the bedroom, grabbing outfits and trying things on, looking in the mirror for that perfect outfit so that you communicate to your date that you're not only ready, you're willing. Passion gets the best of you and you work hard to do your hair just right and finally, you're ready.

But what if you rushed out the door before really stepping back and looking in the mirror absorbing the radiant image of you? You would be missing out and all that work you put into your presence is missed by your eyes. That's the key to feeling confident. Knowing where you stand and giving yourself that opportunity to let it all sink in. 
You can stand in the center of your hurricane hit room and see that all that hard work you put in wasn't for nothing. The results speak for themselves, and the right person will see that, and deep in your heart, you know it, too.
To find out more, look for your zodiac sign below to find out what's in store according to your love horoscope for today in astrology.

ARIES (March 21 - April 19)
Tarot card of the day: The Hermit
Aries, listen to the spirit of bravery that speaks from within. Fear is simply a distraction and an exercise of learning to love with courage no matter what. 
RELATED: Characteristics Of The Aries Zodiac Sign That Makes Them The Bosses Of Astrology
TAURUS (April 20 - May 20)
Tarot card of the day: Temperance
Taurus, waiting for good love is something to believe in, and if you found it once, you have a wonderful chance that you'll find it again. 
RELATED: 8 Brutal Truths About Loving A Taurus Man
GEMINI (May 21 - June 20)
Tarot card of the day: The Hierophant
Gemini, people learn to love well by trial and error, and when you've been disappointed by the way someone expressed their love towards you, it's not personal. They simply didn't know how. 
RELATED: Which Zodiac Signs Are The Most (And Least) Compatible With Gemini
CANCER (June 21 - July 22)
Tarot card of the day: Death
Cancer, love is a light that is meant to be turned on and stay that way. The only one who can choose to flip the switch is you.
RELATED: 20 Uplifting Quotes That Will Comfort Even The MOODIEST Cancers
LEO (July 23 - August 22)
Tarot card of the day: The High Priestess
Leo, it can be daunting to start over again and let your heart be free. But start where you are. Why wait until tomorrow? 
RELATED: Characteristics Of The Leo Horoscope Sign That Makes Astrology's Lion The RULER Of The Zodiac
VIRGO (August 23 - September 22)
Tarot card of the day: The Moon
Virgo, timing can be perfect or imperfect, and love often comes when it's not that convenient, but it's still a gift for you to treasure. 
RELATED: The ULTIMATE Guide To The Virgo Zodiac Sign — The Most Down-To-Earth Sign In Astrology
LIBRA (September 23 - October 22)
Tarot card of the day: The Magician
Libra, love comes with the value. You are too beautiful to surround yourself with anything other than love and happiness. 
RELATED: 11 Brutal Truths About Loving a Libra (As Written By One)
SCORPIO (October 23 - November 21)
Tarot card of the day: The Hanged Man
Scorpio, people crave approval and that includes yours. You may find that the smallest gesture of love and affirmation lifts the heart of another including your own. 
RELATED: The Ultimate Scorpio Compatibility Guide: Understanding Love Relationships According To The Zodiac
SAGITTARIUS (November 22 - December 21)
Tarot card of the day: The Emperor
Sagittarius, you have in you the power and capacity to love. Your life is worth making an effort to show up and to be more than average. Give yourself permission to be you.
RELATED: 20 Reasons Loving A Sagittarius Is ALWAYS A Good Idea
CAPRICORN  (December 22 - January 19)
Tarot card of the day: Wheel of Fortune
Capricorn, you keep coming back, again and again, showing up for love and to be there for yourself and others. You have a big heart and that kind of love that you carry in your heart comes from above. 
RELATED: 5 Ways To Keep The Capricorn You Love Happy AF — Or Else
AQUARIUS (January 20 - February 18)
Tarot card of the day: The World
Aquarius, love is the reason for many things that you do, and you may not hear it often, but that's what makes you pretty amazing. It's what makes you amazing. 
RELATED: Facts About The Capricorn Zodiac Sign That Describe These Down-To-Earth, Ambitious People Perfectly
PISCES (February 19 - March 20)
Tarot card of the day: The Sun
Pisces, the energy you need for this day and for others comes from a deep root of love and soul nurturing. Tap into the energy of the universe and be amazed at the way you channel the life force that willing comes to you when you're open.
RELATED: Facts About The Pisces Horoscope Sign That Explain These Wise, Old Souls Perfectly
Aria Gmitter is the Horoscopes and Zodiac's editor for YourTango. She earned her degree in comparative religious studies from the University of Miami. When she isn't exploring the meaning of life with help from the universe, she can be found stargazing. Follow her on Facebook!

 

astrology,love astrology,zodiac,love zodiac,zodiac signs,love zodiac signs,zodiac sign,love zodiac sign,horoscope,love horoscope,horoscopes,love horoscopes,Tarot,love tarot,Buzz,Love