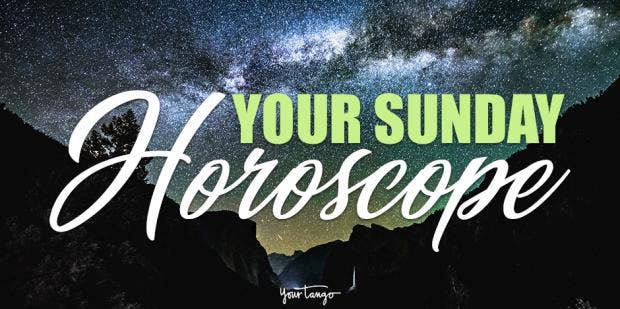 astrology
Astrology Horoscope Predictions For Today, 11/18/2018 For Each Zodiac Sign
November 18,2018 10:26
Your daily horoscopes are here, astrology lovers for today, Sunday, November 18th, 2018 for all zodiac signs in astrology. Today is a good day to aim for a new mindset and to think about the future while taking into consideration the past. It's a great ...

Your daily horoscope is here for all zodiac signs in astrology on November 18, 2018.
Your daily horoscopes are here, astrology lovers for today, Sunday, November 18th, 2018 for all zodiac signs in astrology. Today is a good day to aim for a new mindset and to think about the future while taking into consideration the past. It's a great day for playing sports, for starting a new workout routine or to play board or video games making winning fun.
The Moon enters the sign of Aries this afternoon and remains in Aries until Wednesday of this week.

RELATED: How Venus Going Direct In Libra Affects Each Zodiac Sign Starting On November 16, 2018
The Moon represents the mind but it's also the symbol of the mother. It's love with action. It's discipline through hardship. It's the means of learning by giving sharp redirection without caring what the reasons are for the mistake. Aries is action and action can be hard to handle.
Aries is ruled by Mars, which is currently in the sign of Pisces, and so emotion and desire are fueled by deep desire.When the Moon in astrology is the equivalent of your mind.
It symbolizes the best way to think about things that are taking place during the day. The Moon in Aries brings the element of fire into the equation. It's like your mind ready to rush towards something new and to consider how to start projects in a fresh, new way.
A person with an Aries Moon is someone who respects people who take action right away when an idea solidifies. They may dislike it when people talk incessantly about their ideas.
During the Moon in Aries, energy is more persuasive, action-driven and accomplishment oriented. Life doesn't wait for luck to happen; what is wanted is made to happen because that's what a Moon in Aries wants. 
RELATED: Weekend Love Rune & Tarot Horoscope Forecast, November 16-18, 2018 For Each Astrology Zodiac Sign
The Aries Moon trines Jupiter in the zodiac sign of Sagittarius. There's good fortune when you take action. There's endurance when you seek to go on an adventure. In fact, trying something new can be more than productive for you today. It can lead to learning something that helps you to understand an important goal better, too. 
The Aries Moon also squares Saturn in Capricorn. This type of aspect is the checks and balance to the day. If you take off to do something, Saturn reminds you to prepare yourself and to be sure to remain steadfast. If you are emotionally about it, Saturn serves as a reminder to remain focused on the task at hand and to continue pursuing action.
However, like all things Aries, if things get in the way, you may feel frustration. It's so much better when things run smoothly and budge without being asked. For people who are holiday shopping, this means to remain diplomatic when trying to get things done.

via GIPHY

RELATED: The Dark Side Of The Aries Zodiac Sign, According To Astrology
If you're preparing for holiday dinners and guests, remember that sometimes you have to exercise patience because people are humans and everyone is doing the best that they can with what they have.
One thing that an Aries can do (the sign is called the Ram for a reason) is fight the people that they love when they are frustrated because of time constraints or a sense that things aren't moving fast enough.
So, watch for aggressive behavior or for moments when it seems like you're being a bit pushy. Give others some slack as more patience is needed until the Moon moves into Taurus (just in time for Thanksgiving)!

To find out more, look for your zodiac sign below to find out what's in store for you, according to your astrological forecast and horoscope, for today, Sunday, November 18, 2018.
ARIES (March 21 - April 19)
Tarot card: The Moon
Aries, early today, you may find yourself reminiscing about the past, but there are plenty good reasons to take those memories put those learning experiences to good use.
The Moon in your sign later on today can provide a positive boost of energy that helps you reconnect to yourself. Do personal things that help to orient you to the upcoming week. Use today to get organized so you can feel in control of your environment and tasks. 
RELATED: Characteristics Of The Aries Zodiac Sign That Makes Them The Bosses Of Astrology
TAURUS (April 20 - May 20)
Tarot card: The Devil
Taurus, this morning you may be thinking about your love life or wondering about an important work-related project that you would enjoy seeing put together. Later today, the Moon in Aries can bring up situations that seem unfavorable for you. Rather than keep silent or not speak up for what you want, be vocal and share your concerns or ideas. Assertive is where it's at for you today.
RELATED: The Ultimate Taurus Compatibility Guide: Understanding Love And Relationships
GEMINI (May 21 - June 20)
Tarot card: The Magician
Gemini, it's technically not a work day, but that may not matter to you. You may still desire to be productive and feel as though it's now or never regarding certain tasks. Your desire to take action and work ahead may be exhilarating for you. Just remember to pace yourself and try not to get bored too fast of mundane tasks.

CANCER (June 21 - July 22)

Tarot card: The Tower
Cancer, a new adventure can come from nowhere and you might start getting involved without realizing that you could have said no, but you didn't. There's a sense of things spirally out of control due to the speed of activity, but not to worry. You may find that you get things done with finesse and at the end be mighty accomplished. 
RELATED: Personality Traits Of The Cancer Zodiac Sign That Make It The Sweetest Sign In Astrology
 
LEO (July 23 - August 22)
Tarot card: The World
Leo, living life by the seat of your pants can feel like an adventure of sorts at first but then there's also the practical side to life and you may find yourself focusing on that more than usual. Perhaps the melancholy of the holiday can have your futuristic thoughts kicking up again. What do you want to do in 2019 is a good question to ask. Think big!
RELATED: Characteristics Of The Leo Horoscope Sign That Makes Astrology's Lion The RULER Of The Zodiac
VIRGO (August 23 - September 22)
Tarot card: Justice
Virgo, sometimes the fastest way to a fresh start is to put things in your life behind you. Today, what that 'thing' is can come to you and that feeling of holding on can become a burning desire to let go. Drop the drama like it's hot!
RELATED: The ULTIMATE Guide To The Virgo Zodiac Sign — The Most Down-To-Earth Sign In Astrology
LIBRA (September 23 - October 22)
Tarot card: Judgement
Libra, romance is in the air, and for you it can strike quickly. You are ready to start something meaningful at this time and with the right person, anything is possible. 
RELATED: Facts About The Libra Zodiac Sign That Explain These Peaceful, Intellectual People Perfectly
SCORPIO (October 23 - November 21)
Tarot card: The Empress 
Scorpio, if you've been meaning to start back up on a workout or fitness routine, today is a great day for physical activity or at the very least, planning on what you'd like to do when you are ready and able. Resist the urge to go full force if it's been a while for on the running court. Pace yourself and set long term goals. Formulate the foundation of your plan today.
RELATED: Traits Of The Scorpio Zodiac Sign That Make It The Most Intense Sign In Astrology
SAGITTARIUS (November 22 - December 21)
Tarot card: Judgement
Sagittarius, romance, play, flirtation, and even a bit of spark can catch you off guard. You may not find yourself thinking about love in a long term way but feeling numb can begin to thaw.
RELATED: 20 Truths About Sagittarius Women You NEED To Know
CAPRICORN (December 22 - January 19)

Tarot card: Temperance
Capricorn, family matters may be pressing today. You may have something come up that requires your full attention when it wasn't exactly convenient. Pivot with style and remember that everything happens for a reason and you may not always be in control of life, but it can certainly keep things interesting. 

 
AQUARIUS (January 20 - February 18)
Tarot card: Justice
Aquarius, communication can be a fun way to express your ideas but you might also consider committing thoughts to paper. If you've got a plan that you want to implement soon, today is a great day for business planning. Even if you don't do anything with what you write down now, you can have reference of what you dreamed about today to use in the future. 
RELATED: Spot-On Facts About The Aquarius Zodiac Sign Explain These Compassionate, Intelligent People Perfectly

 

PISCES (February 19 - March 20)
Tarot card: The Magician
Pisces, it can be easier to shop today and to find good sales or bargain buys if you're out taking advantage of this weekend's specials. Don't forget to buy a gift for yourself!
RELATED: Facts About The Pisces Horoscope Sign That Explain These Wise, Old Souls Perfectly
[[nid:289333]]
Aria Gmitter, M.S, M.F.A., is writer, astrologer, and YourTango's Zodiac & Horoscopes editor who covers astrology and celestial events. She's Live on YourTango's Facebook page on Tuesdays at 10:20 pm EST doing tarot card readings and answering questions about your zodiac sign. Follow her on Facebook.


astrology,horoscope,horoscopes,zodiac,zodiac sign,zodiac signs,Tarot,horoscope sign,horoscope signs,aries horoscope,taurus horoscope,cancer horoscope,leo horoscope,virgo horoscope,gemini horoscope,scorpio horoscope,sagittarius horoscope,aquarius horoscope,pisces horoscope,capricorn horoscope,Buzz,Self