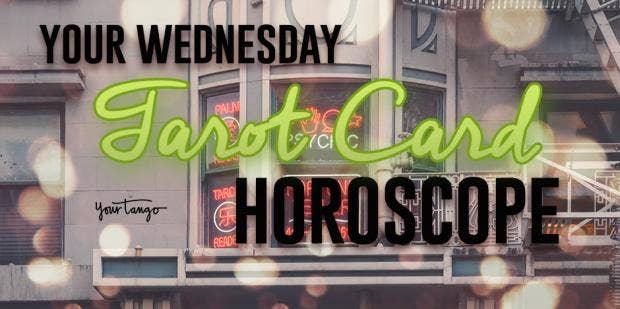 astrology
Astrology Horoscope & Tarot Card Reading For Today, April 11, 2018 For Each Zodiac Sign
April 11,2018 16:23
Your daily tarot card reading for each zodiac sign's astrology horoscope is here for Wednesday, April 11th, 2018. The Sun is in Aries and the recharging Moon is in the zodiac sign of Aquarius. You are stepping into a position of authority and power ...and more »

You are more powerful than you realize, zodiac signs.
Your daily tarot card reading for each zodiac sign's astrology horoscope is here for Wednesday, April 11th, 2018. 
The Sun is in Aries and the recharging Moon is in the zodiac sign of Aquarius.
You are stepping into a position of authority and power over your life, but first, you have to know the value of power and how much you have. 
We are five days away from a New Moon in Aries (P.S. there's a New Moon Ritual video to use to prepare for this at the bottom of this article for you to use). 
Today's Master Number of the day is 8 — Businessperson, the Manager of balance and power. 
(Note: If your day of birth is the 8th, 17th, 25th of the month, then you are a Life Path Number 8.)

RELATED: Felicia Bender calls the person with the life path number 8 'the powerhouse'. She teaches that this person is here to learn how to develop their sense in the area of abundance, balance, control, and authority in their life." Quite the tall order, if you ask me.
What is power exactly? Today, with the Moon void of course, we may not be so sure. With Aries, power comes in forceful ways. We presume power is the ability to push through, make things happen, take action and see things move. 
RELATED: Astrology Horoscope Forecast For Today, April 11, 2018 For Each Zodiac Sign
But power can be other things. Imagine that you walk into a room and you're the tallest, strongest person there. You can command the life and death of others, and someone runs up to you dragging behind them a person who stole from you, who caused you years of harm, and now you can take revenge. The undeserving person asks for forgiveness, and you know under the law that person should and will be punished.
They don't deserve your forgiveness, but you have compassion and withhold your judgment. You grant it and no one really understands why. Mercy is control of power, and the holding back of that power is a way of showing true authority. Forgiveness allows wholeness to take place. Power doesn't always mean forcing your way through, it can also mean holding yourself back. In fact, restraint is probably the greatest power of all.
RELATED: Astrology Love Horoscope Forecast For Today, April 11, 2018 For Each Zodiac Sign
Today, with Aries being the only voice in the universe that you hear, thanks to the Moon going void of course until it enters the zodiac sign of Pisces this afternoon, you are reminded to be in touch with your healing side, which includes an awareness of power works, when to apply it, when to be gentle and kind and when to speak up for yourself. 
We don't have to be a doormat which you could easily connect to the idea of forgiving others who have harmed you while we are in Pisces later today; however, the opposite is often true. Forgiveness is the first step to freeing yourself from the burden of judgment and it releases you from the negative energy that comes from people who meant you harm. 
Today, exercise your power through exertion and restraint in your own way.

There is symbolism on each Tarot card that you can use to provide insight when things are unclear. Check out your zodiac sign for today, April 11th, 2018 daily tarot reading and astrology predictions.
ARIES (March 21 - April 19)
Tarot card: The Fool
Aries, in the rush of life, it might not be until you've sat down at the end of the day that just how much you've done starts to sink in. Give yourself reminders throughout the day to reconnect with yourself so that you don't miss out on celebrating tiny victories.
RELATED: 25 Things Ambitious, Get-What-They-Want Women Do WAY Differently
TAURUS (April 20 - May 20)
Tarot card: The Magician
Taurus, when you have many skills that are valuable and helpful, it's hard to know which one to use or concentrate on during the day. Pick one area and focus on it, if that doesn't work, pull out another tool from your tool belt to try. 
RELATED: The Surprising Way To Find Happiness Every Day (& How 'Going With The Flow' Is Holding You Back)
GEMINI (May 21 - June 20)
Tarot card: Judgement
Gemini, being intuitive happens when you don't even expect it and this will prompt you to make judgment calls on things that must be done, just remember to apply this to situations and not only people. Sometimes situations are circumstantial, not permanent. 
RELATED: 10 Things You CONSTANTLY Dream About — And What They Actually Mean
CANCER (June 21 - July 22)
Tarot card: Strength
Cancer, when you need strength it feels like life is testing you when you want courage maybe when you feel most afraid. The bottom line is to act rather than withhold your power of authority. What action do you need to take today?
RELATED: The Amazing Thing That Happens In Life When You Learn To LET GO
LEO (July 23 - August 22)
Tarot card: The Lovers
Leo, there are paths that we all walk on but our journey can diverge. Where are you headed? Only you can know. Don't ask around too much until you've gotten clear within yourself. 
RELATED: The Trick To Making Good Decisions
VIRGO (August 23 - September 22)
Tarot card: Temperance
Virgo, be patient with yourself. Sometimes we think we are looking for kindness from others but what we need is to be kinder to ourselves. 
RELATED: 15 Beautiful Ways To Reclaim Your Life When You're Broken
LIBRA (September 23 - October 22)
Tarot card: Death
Libra, when one area of our life comes to an end, another door opens. When you see this happen, give thanks for the protection and remember if it's not for you, it's not meant for you either. 
RELATED: 8 Things Strong, Secure, Stable Women Do WAY Differently
SCORPIO (October 23 - November 21)
Tarot card: The Moon
Scorpio, knowing what you want and need is a process that can take time. How can you cultivate the development of your spiritual walk so that you can hear your inner child's voice more clearly?
RELATED: What You See First When You Look At This Picture Reveals Who You Really Are
SAGITTARIUS (November 22 - December 21)
Tarot card: The Devil
Sagittarius, we all have our own issues with vices. Even good things can become vices in our life if they soon become a crutch. When you find yourself leaning on something is it more habit than need?
RELATED: 12 Attractive Things Strong, Confident Women Do Differently
CAPRICORN (December 22 - January 19)
Tarot card: The Star
Capricorn, guidance is a gift from the universe. It helps us when we need clarity. Something you are working on can become clearer today if you would spend time focusing on searching for an answer to a pressing question.
RELATED: These 4 Zodiac Signs Have Zero Patience
AQUARIUS (January 20 - February 18)
Tarot card: The Chariot
Aquarius, the struggle you face will be overcome; it may not be easy at first but you will see the light at the end of the tunnel.
RELATED: How To Keep Calm And Carry On (So You Can Overcome Any Obstacle)
PISCES (February 19 - March 20)
Tarot card: The Fool
Pisces, pay attention to the signs and signals that are around you today. You may have a gift exchange in the area of power in your life that allows you to give of yourself and receive something of value in return. 
RELATED: Amen! Why More And More Women Are FAVORING Ancient Faiths
Aria Gmitter is YourTango's Horoscopes and Zodiac editor. She earned her theology degree in comparative religion from the University of Miami. When she isn't exploring the universe, she can be found stargazing. Follow her on Facebook! 


astrology,horoscope,horoscopes,zodiac,zodiac signs,zodiac sign,Tarot,astro-numerology,numerology,Buzz,Self