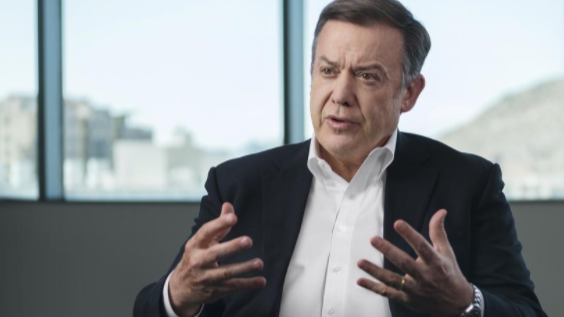 sport
Adidas, Arizona State launch Global Sport Alliance
June 14,2017 09:21
Adidas and Arizona State University have come up with a new twist on the traditional collegiate apparel deal. On Monday they announced the creation of the Global Sport Alliance. The partnership will bring together Arizona State faculty and students ...and more »


Matthew Kish, Portland Business Journal , KGW 3:15 PM. PDT June 13, 2017

CONNECT
Adidas and Arizona State University have come up with a new twist on the traditional collegiate apparel deal. On Monday they announced the creation of the Global Sport Alliance.
The partnership will bring together Arizona State faculty and students, Adidas employees and industry experts to study sport's role in society, including diversity, gender and race. It will also study the technical aspects of the industry, such as sustainability, textiles and manufacturing.
The deal comes as the terms of university apparel deals have ballooned and seemingly answers critics who question the benefits of multimillion-dollar sportswear deals to the wider university community. The traditional apparel deal only benefits athletes and some athletic administrators.
"The goal is to reshape sport in the future," said Adidas Group North America President Mark King. "What can sport be? What can the impact be? It's not going to be done in a vacuum. It's going to be done using resources all over the world. We believe this is something that can make a real impact on society."
King credited Arizona State President Michael Crow with the idea and said it traces back to when the university agreed to an apparel deal with Adidas in 2014.
"We both realized that we had some other areas of activity and other areas of similar values," Crow said. "We thought about how we could work together to drive sport forward as a positive thing."
King and Crow said the idea is still maturing, but it already includes the Global Sport Institute, which will hold events and report findings. Kenneth Shropshire, a leading sports business academic, has been hired from the University of Pennsylvania's Wharton Sports Business Initiative to staff the institute.
"The Global Sport Institute will support collaborative inquiry and research that examines critical issues impacting sport and all those connected with sport," Shropshire said, in a news release.
Terms of the partnership weren't disclosed, but King and Crow characterized it as long-term. It will likely eventually include other companies and organizations.
"It is a very big initiative for us," King said. "We couldn't find a better partner than ASU."
The Business Journal maintains a database of NCAA apparel deals. Arizona State has one of the most lucrative Adidas contracts.
Crow said Adidas' affiliation won't have a negative influence on academic research.
"Academic freedom is a core value of the institution."
Matthew Kish covers footwear, apparel, banking, finance and general assignment news.
© 2017 KGW-TV

KGW
Portland apparel company repping Blazers, Timbers opens first store

KGW
Here are this year's top 20 NCAA apparel deals

KGW
Movers and Makers: Portland Apparel Lab hopes to be a central hub for designers

CONNECT

TRENDING VIDEOS

More Stories

Jun 14, 2017, 8:01 a.m.

Jun 14, 2017, 9:44 a.m.

Jun 13, 2017, 6:09 p.m.


Business,Facebook-Instant,Sports,Education,Life,News,Local