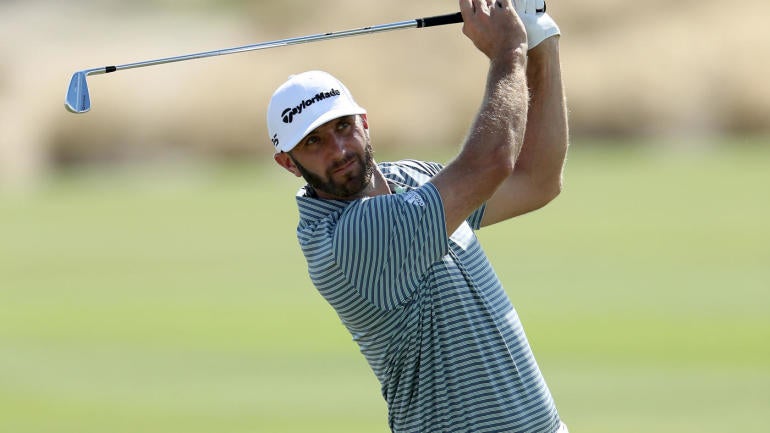 world news
2018 Hero World Challenge leaderboard: Dustin Johnson in contention with hot Round 2 finish
December 01,2018 00:23
We had it all in Round 2 of the 2018 Hero World Challenge as Jon Rahm caught fire, Henrik Stenson and Dustin Johnson combined for 14 birdies while playing in the same group and Tiger Woods was involved in a rules snafu. Let's take a look back at the ...and more »

We had it all in Round 2 of the 2018 Hero World Challenge as Jon Rahm caught fire, Henrik Stenson and Dustin Johnson combined for 14 birdies while playing in the same group and Tiger Woods was involved in a rules snafu. Let's take a look back at the day that was at Albany as Stenson and Rahm co-lead the tournament.
1st place -- Jon Rahm, Henrik Stenson (-10): When Rahm is swinging it well it feels like he's never going to lose. He hits the ball so pure and so tight when he's locked in. It's a joy to watch. He shot a 9-under 63 in his second competitive round ever at this tournament on Friday. Stenson is much of the same, and it will be fun to watch those two trade some ludicrous trajectory on Saturday afternoon.
Last place -- Jason Day (+1): Day is the only golfer in the field who hasn't shot 70 or better over the first two rounds this week. He made a pair of birdies on the back nine and still shot a 39 coming home.
Other contenders -- Patrick Cantlay (-9), Dustin Johnson (-9) and Tony Finau (-8): Johnson got smoking hot late as he birdied five of six holes starting at No. 11. Finau was the opposite, and he went out in 31. Those two shot a best ball 61 in Round 2. Cantlay slowed his pace after a 65 on Thursday but did enough to put himself in the mix going into the weekend.
What did Tiger Woods do? He played far better in Round 2 and shot a 3-under 69 that should have been even better. Woods was 5 under on the day going to the 18th, but he hit a poor drive and made double at the last. It almost got worse. Woods was questioned about a double hit on his pitch out from the brush area, and while Woods told Golf Channel that it was determined in slo-mo that he did hit the ball twice, he was not penalized. 
Who had a great day? I've talked enough about Rahm so how about Tony Finau, who shot 64 with an eagle chip-in on the par-5 ninth. He might be taking the "must get to a television because [insert name] is riding a heater" mantle from a few of the top players on the planet right now. Finau has the second best round of the week under his belt and is poised for yet another run at a tournament win this weekend.
Who struggled? It's been a roller coaster of a week for Patrick Reed, and we're just now getting to the weekend. Reed started the festivities with more Ryder Cup-Jordan Spieth comments, he shut down commentary about it on Thursday after shooting a 65 and then he shot a field-worst (by far) 77 (!) on Friday. The next worst score on Friday was a 73 from Bubba Watson. The next worst score all week was a 74 from Hideki Matsuyama in Round 1.
Shot of the day: Stenson went 3-wood and then 5-wood on the 600-yard par-5 ninth hole. He missed the putt, sure, but that pair of shots was the full Henrik Stenson Experience.
Stat of the day: I've been harping on it for months now, but Justin Rose's last 15 months have been outrageous. To see it put this simply on the broadcast was to be blown away. Twenty-four (!) top 10s in 31 starts. 

What to watch on Day 3: I would have taken one of the Patricks (Reed, Cantlay) or one of the Justins (Thomas, Rose) to start the day and given you the field for the rest of the week. This is why I don't wager on professional sports. Johnson is your new +275 favorite, and the weekend should be pretty fascinating as nobody in the field is at par or worse. Expect scoring, expect great play and expect somebody to need to fire 66-66 to win this tournament.
CBS Sports was with you the entire way updating this story with the latest scores, analysis and highlights from Round 2 of the 2018 Hero World Challenge, which you can stream live on fuboTV (try for free). If you are unable to view the updates below, please click here.
Thanks for stopping by.

world of tanks world of warcraft world world of warships world trade center world war 3 world map world press photo world of warplanes world of trucks