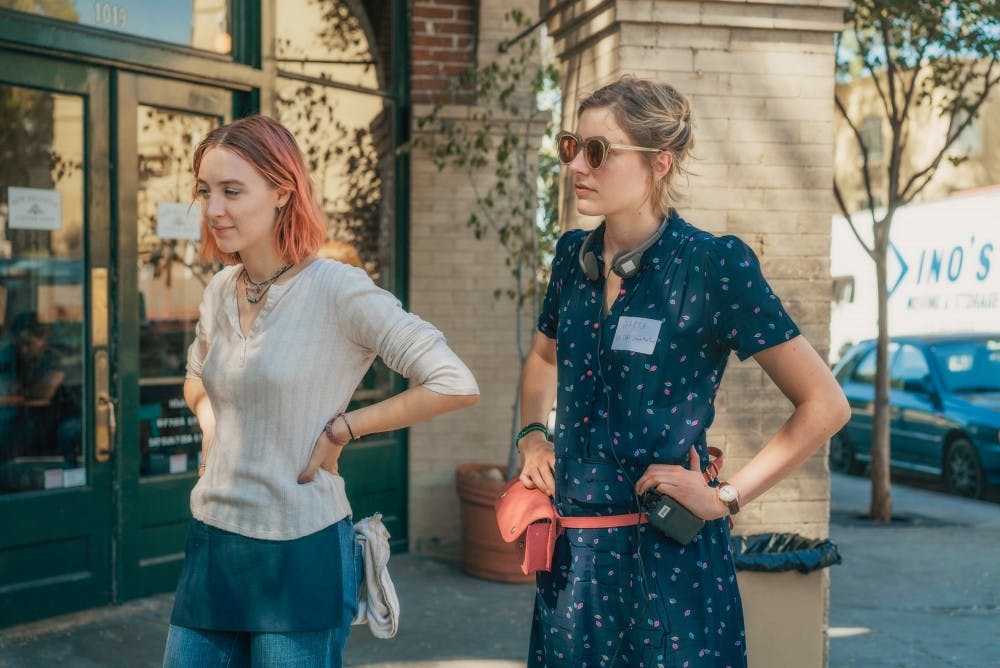 cinema
"Lady Bird" soars onto the IU Cinema screen this weekend
January 11,2018 13:17
The film, which recently took home Golden Globe awards for best musical or comedy motion picture and best actress in a musical or comedy (for Saoirse Ronan's much-lauded lead turn), comes to the cinema as part of its ongoing International Arthouse ...and more »


"Lady Bird" was directed by Greta Gerwig and released Nov. 3, 2017. The film has been nominated for dozens of awards, including the Critics Choice Movie Award for Best Comedy for 2018.  Buy Photos

Greta Gerwig's critically acclaimed coming-of-age film "Lady Bird" will be playing at 7 and 9:30 p.m. Saturday evening and 3 p.m. Sunday afternoon at the IU Cinema. Tickets to the film are $4 for IU students and $7 for non-students.
Tickets for the 7 p.m Saturday and 3 p.m. Sunday showings have sold out as of Jan. 9.
The film, which recently took home Golden Globe awards for best musical or comedy motion picture and best actress in a musical or comedy (for Saoirse Ronan's much-lauded lead turn), comes to the cinema as part of its ongoing International Arthouse Series, which celebrates acclaimed new releases from around the globe.
"Lady Bird" follows a young girl named Christine, who prefers to go by the self-bestowed name of Lady Bird, as she navigates the trepidations, tribulations and triumphs of her teenage years in Sacramento, California. 
The film chronicles landmark events in her life, such as first loves, meaningful friendships and the transition from high school to college. However, it also focuses on her life as part of a low-income family, her Catholic schooling and her tumultuous relationship with her mother, Marion, played by Laurie Metcalf.
IU Cinema Director Jon Vickers, who first saw the film at its premiere at the Toronto International Film Festival, said he fell in love with it the moment he saw it.
"This film is universal," Vickers said. "The stories are universal. The interactions of the characters are universal. It features two strong female characters, which I think is really great, and we need to see more."
He added that the cinema staff tries to fill its International Arthouse Series with a mixture of international and foreign films, especially festival favorites. He said "Lady Bird" just seemed like a natural fit.
Vickers said he is excited for IU students to have the opportunity to see the film because it is so endlessly relatable, noting that he thinks almost anyone who sees it will relate to the characters in some capacity.
He added that he was particularly impressed by indie darling Greta Gerwig's work as director. 
"She tells a story that is simple in many ways, but that is really engaging and quirky and fun and heartbreaking, but she does it in a way that seems effortless," he said. 
Gerwig — who has been quietly making waves in the independent film community as a writer, actress, and occasional co-director — made her directorial debut with "Lady Bird," which currently rests at a near-perfect 99 percent on movie review aggregator site Rotten Tomatoes.
IU students Sam Higgins and Tom Sweeney, both of whom are self-proclaimed "Lady Bird" fans, said they are excited for their peers to get the opportunity to see the film at the cinema.
"I think that people — especially my friends and my demographic — can relate to it," said Higgins, who's now seen the film four times. "I would recommend it to everyone."
Sweeney said he agreed with Higgins and added that the film boasted a rollercoaster ride of human emotions. 
"It was the kind of universal story that anyone can really enjoy," he said. "It had the biggest laughs and the biggest tears."
Higgins also added that one of the standout characteristics of the film to him is how immaculately the story is told. Despite the scale of the film's narrative, he said, the consequences and emotion of the events are involving.
Higgins also said he loved the film's blend of drama and humor, as well as its capacity to exploit a full range of emotions. He said he recalls tearing up several times and laughing even more.
Both Higgins and Sweeney added that they loved the performances of the entire cast, including Oscar nominee Saoirse Ronan, as well as rising stars such as Timothée Chalamet ("Call Me by Your Name") and Lucas Hedges, who was nominated for Best Supporting Actor at last year's Oscars for his performance in the film "Manchester by the Sea."
"Timothée Chalamet was hilarious and insightful," Sweeney said. "He and Lucas Hedges are the breakout stars of the film."
Both of the two named "Lady Bird" one of their all-time favorite films.
"It was the best film I saw in 2017," Sweeney said.
Like what you're reading? Support independent, award-winning college journalism on this site. Donate here.

 Police are looking for a suspect in the case of a Wednesday-morning burglary. 

The man, Bryce Shook, is scheduled to appear in court Feb. 26. 

The media needs to stop paying attention to LaVar Ball. 


cinema city cinema city debrecen cinemapink cinema city allee cinema city győr cinema city westend cinema city campona cinemapink mammut cinema city vip cinematrix